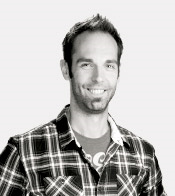 We're thrilled to have Scott on board. With the addition of another web developer, we are able to continue to grow and better serve our clients.
Plainfield, IL (PRWEB) May 07, 2014
Idea Marketing Group is proud to announce the addition of Scott Dunham, web designer and front end developer to the Idea staff. With 10 years of web design experience, he prides himself on utilizing the most current web technologies to provide the latest and greatest client projects possible.
Scott graduated from Northern Illinois University with a Bachelor of Fine Arts degree in their Time Arts program. He holds bragging rights to the fact that he operated the JumboTron at NIU football games. He has worked as a web designer, front-end developer as well as handling video production, motion graphics, social media and has even done some IT work.
Scott is an innovator. His skill set and personality fit the Idea team and he fills a niche as Idea continues to expand and serve a growing client base. His 'jack of all web trades' will certainly be a great asset to Idea's staff and clients.
In addition to "geeking out" and keeping up with the latest web/tech trends, Scott entertains a number of hobbies including avid mountain biking, photography, music, literature, rock climbing and keeping busy with his family. He volunteers as a web design teacher at Artifice, a Woodlawn based tech education center. He has already spearheaded Idea's green initiative by riding his bike to work instead of driving, when the weather cooperates.
Idea Marketing Group is a web design and marketing firm with offices in Chicago and Plainfield, IL. Since 2009, Idea strives to provide creative, unique and cutting-edge websites and individualized goal-driven marketing. Clients choose Idea Marketing for award winning web design and marketing services from an experienced and passionate web marketing team that helps grow businesses. To learn more about Scott or Idea, visit http://www.ideamktg.com or call 312.834.7001.