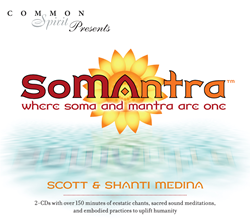 "Our vision for this unique project is to inspire a movement of self-realization through service and connection by utilizing these simple embodiment practices," said Shanti Medina, RYT CPT.
Boulder, CO (PRWEB) December 04, 2014
Scott and Shanti Medina are ecstatic to announce the release of their two-disc music CD set titled SoMAntra™, which is produced by three-time Grammy-winning producer Tom Wasinger and has over 150 minutes of ecstatic chants, sacred sound meditations, and embodied practices empowering self-directed neuroplasticity and innate mind/body wisdom. Twenty percent of all CD sales will be donated to Give Back Yoga Foundation's programs and Common Spirit's interfaith music events. SoMAntra™ is Scott and Shanti Medina's fourth CD release.
The music in SoMAntra™ is unique to other mantra (sacred sound formula) and kirtan (devotional chanting) CDs as it includes simple somatic body intelligence and higher brain activation practices to support the listener in using these ancient practices to mitigate stress, calm the nervous system, and even resolve chronic pain. This is the perfect uplifting collection to add to any yoga practice as well as to enjoy on your commute into work.
The first CD is a 79-minute journey of uniquely grounded and meditative, yet upbeat chants that showcases special guest world-class musicians along with Scott and Shanti Medina's beloved core musicians and sound healers in their Boulder-based band. The second CD offers a series of new chants and old favorites coupled with activation practices to further embody the intention and vibration of the mantras; in addition, there is 45 minutes of somatic soundscape Body Current® meditations, with Shanti's spoken word guiding a journey of self-directed awareness through the elements to harmonize the chakras (energy wheels up the spine) incorporating specific mudras (ancient symbolic hand gesture energy seals) and self-guided neuroplasticity practices to integrate and align with the current of innate intelligence.
"Our vision for this unique project is to inspire a movement of self-realization utilizing these simple and ancient embodiment practices empirically shown to mitigate stress and empower our higher executive thinking and functioning while self-directing our own nervous system," said Shanti Medina, RYT CPT CNSF. "The 26 tracks and practices on this two-disc CD project are orchestrated to do just that; empower our abiding mind/body intelligence by entraining with the current of sacred sound."
Instead of downloading the tracks, Scott and Shanti encourage people to buy the two-disc CD set for themselves or for others as a gift. Not only is their environmentally-friendly CD packaging complete with the mudra illustrations and mantras, it also includes inspiring photos and more details about the intention and integration of the practices and meditations on the CDs. As serving and giving back is such a large part of Scott and Shanti's lives, they were inspired to build-in a giving back component as an integral part of this project. Therefore, for each copy purchased, Scott and Shanti are donating 20% of all CD profits back to two non-profits: The Give Back Yoga Foundation and Common Spirit.
"It is our hope that people will be inspired to join us in giving back by gifting themselves and loved ones this transformative double-CD", says Scott Medina who has been leading community chanting events for over 15 years.
Scott and Shanti are also honored to have been named ORGANIC INDIA Call to Shine Ambassador alongside inspiring artists like David Newman/Durga Das, DJ Drez and MC YOGI. This program supports uplifting teachers, artists, and musicians who aspire to act and give back. Scott and Shanti say they "are deeply humbled by this honor to join like-hearted visionaries to empower and unite through the universal language of art and music."
Scott and Shanti are a dynamic husband-wife duo from Boulder, CO, sharing their love and devotion to uplift humanity through their ecstatic music events and inspiring immersions. To find out more about their national SoMAntra™ tour dates, including Sedona Yoga Festival in February 2015, as well as to purchase their latest double-CD release SoMAntra™, visit their website http://www.ScottandShanti.com