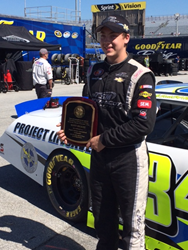 Port. St. Lucie, FL (PRWEB) September 29, 2014
But racing is not his only passion. Scott has demonstrated a relentless dedication to help raise awareness of the Project Lifesaver International (PLI) program and the devastating effects of Alzheimer's disease. On Friday, September 26th Chief Gene Saunders, PLI's CEO and Chief Tommy Carter, PLI's COS inducted Scott as a PLI Ambassador. Scott is only the fifth person to become a PLI Ambassador. Scott knows from personal experience about the challenges of caring for a loved one with Alzheimer's disease. Scott's aunt, who has been diagnosed with Alzheimer's and has wandering tendencies, is enrolled in the Project Lifesaver program.
"We are truly grateful to Scott and the rest of the Turner Scott Motorsports team for their support of Project Lifesaver. It is an honor to see the Project Lifesaver logo prominently displayed during the 2014 NASCAR racing season on the #34 Turner Scott Motorsports Chevy. We greatly appreciate both Scott and the Turner Scott Motorsports support and we are privileged to be part of Scott's amazing journey. PLI will continue to support Scott and his team throughout his career," said CEO/Founder, Gene Saunders of Project Lifesaver International.
Over the last 15 years Project Lifesaver has honored only four other individuals with the distinction of Ambassador. Scott will be the fifth Ambassador joining notables such as Jack Howard Jacobs, retired US Army Colonel and Medal of Honor recipient for his actions during the Vietnam War, Erik Estrada, actor and star of the highly successful television series, "CHiP's", Haley Moss, Artist, Author, and Autism Advocate, and Candi Spitz, Autism Advocate in the South Florida region.
About Project Lifesaver International:
Project Lifesaver is a 501 (C) (3) community based, public safety, non-profit organization that provides law enforcement, fire/rescue and other first responders with equipment and training to quickly locate and rescue individuals with cognitive disorders who are prone to the life threatening behavior of wandering, including those with Alzheimer's disease, Autism, and Down syndrome.
Started more than fifteen years ago, Project Lifesaver is not just the first, but the most widely used and effective program in the nation, specifically designed to protect the "At Risk" populations in our communities. Project Lifesaver has trained thousands of public safety agencies, not only in search, rescue and the use of our electronic locating equipment, but also in the methods necessary to communicate with a person who has Alzheimer's disease, Autism or a related cognitive disorder.
For more information on Project Lifesaver International visit us at http://www.projectlifesaver.org
For more information about Scott Heckert and his team at Turner Motorsports visit
http://www.scottheckert.com/
To learn more about Project Lifesaver and their programs contact:
Joseph Salenetri
Senior Communications Advisor
josephsalenetri(at)hotmail(dot)com
609-672-1441
or
Elizabeth Kappes
Public Relations Coordinator-Special Projects
ekappes(at)projectlifesaver(dot)org
757-531-5105