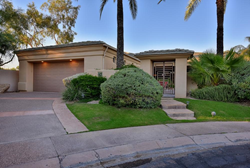 Scottsdale, AZ (PRWEB) January 22, 2016
Micoley.com is excited to announce the auction of Lot 101416, as known as 10100 N 78th Place in Scottsdale, AZ. The gorgeous 3,505 square-foot home was built in 1998 and features all of the seamless charm that open living spaces offer.
The beautiful indoor/outdoor living space includes amenities to make any real estate enthusiast smile, including 18-foot floor-to-ceiling electronic glass doors, great room with fireplace, formal and informal dining spaces, family room, and gourmet kitchen. Other spectacular amenities include a full wet bar, three spacious bedrooms, and three bathrooms. All of these features are found on the first floor.
The outdoor amenities featured on this property are just as amazing, and include an outdoor kitchen, fire pit, and -- perhaps best of all -- a cascading waterfall that makes its way to a heated pool. The lot is part of the Gainey Ranch gated community and offers all the wonderful amenities you find within such communities. Monthly HOA fees apply.
This superior real estate example is one of the many jewels that make up Scottsdale, AZ. The beloved city offers much in the way of recreational activities, including hundreds of miles of bike and walking trails for every fitness level, beautiful parks and open spaces, and the beauty and mystery of the Sonoran Desert.
The city is also known for its patronage of the arts, with more than 100 galleries found within its limits. Renowned museums, spectacular architectural feats, outstanding performance spaces, and the much-loved Scottsdale ArtWalk also make up the arts in Scottsdale. The latter allows you to view many of Scottsdale's public art pieces found in its downtown. And these are merely some of the many reasons to consider residence in the vibrant region of Arizona.
Lot 101416 goes up for auction on February 24, 2016, with a list price of $999,900 and an opening bid of $825,000. Contact Micoley.com for more details concerning this illustrious property.
About Micoley.com:
Micoley.com was created to "transform the real estate industry," and functions in conjunction with W.M. Enterprises, Inc. President and CEO, Wade T. Micoley has served as a real estate industry leader for over 30 years, and continues to provide marketing solutions to his wide range of clients.
"Today we serve the real estate community in both the banking and private sectors with customized, accelerated marketing programs," says W. Micoley. "Programs can be tailored for financial institutions, commercial, and corporate clients as well as the individual property owner, to help face our current and unpredictable economic environment. As a result of our aggressive marketing plan, Micoley has successfully assisted many clients across the United States."
For more on available luxury properties, please contact Micoley.com today.