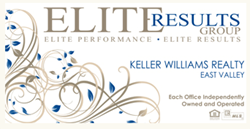 Whether you want to learn more about your housing options in the East Valley area or you need the real estate
Scottsdale, AZ (PRWEB) September 25, 2014
EliteResultsGroupAZ.com, the new website of Elite Results Group, has just gone online. The group is the leading team specializing in Gilbert, Scottsdale and Chandler, AZ homes for sale and the new site is targeted to meet the needs of prospective buyers and sellers throughout the region.
"We have a passion for customer service," says the group's Caryn Shannon, a prominent Gilbert Realtor. "And since most buyers and sellers these days go online when they're searching for real estate information, we wanted to provide them with a one-stop resource that's up-to-date, relevant and comprehensive."
The new website features an array of tools and resources, ranging from detailed listings of the group's own featured properties to home search tools and community information. There are home-buying and selling guides, tips and articles on anything from the escrow process to home loans, a comprehensive FAQs section, the contact information of reliable local vendors, and detailed information about the East Valley cities that the group serves, among others. Designed to be easily navigable, the site has a streamlined user interface that allows for easy, seamless browsing.
"Whether you want to learn more about your housing options in the East Valley area or you need the real estate marketing expertise of a seasoned Scottsdale Realtor, we are here for you," says Shannon. "Get started by exploring our site and when you're ready to talk, we're never more than a phone call or email away."
Over the years, Elite Results Group has built a reputation for professionalism and an unparalleled knowledge of the region and the various market trends here. "We always strive to look at issues from a customer's perspective," says Shannon, whose real estate experience spans almost two decades.
For more information on Elite Results Group's portfolio of services and to start exploring the real estate market in the region, visit http://www.EliteResultsGroupAZ.com or contact them directly.