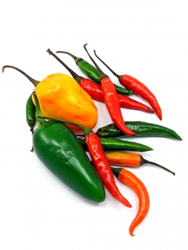 The scale we're providing is one new tool that is offered to help any person find the intensity of peppers from various locations in the world
Cincinnati, OH (PRWEB) April 26, 2014
Consumers who are seeking a way to rate the heat level of various types of peppers available worldwide can now use the Scoville Scale for Peppers website. This website is now showing the intensity level of some of the hottest peppers in the world at
http://scovillescaleforpeppers.com/the-scoville-scale.
The Scoville scale is the official heat index of most of the pepper varieties that are available for consumption in the global market. The independent data that is now supplied on the new pepper portal is designed to educate consumers who are reviewing various pepper brands.
"The scale we're providing is one new tool that is offered to help any person find the intensity of peppers from various locations in the world," said one ScovilleScaleforPeppers.com source.
To coincide with the launch of the new scale online, a Facebook page has been created to provide more interactivity with consumers. The page at https://www.facebook.com/pages/Pepperheads-For-Life/1458560197703099 now provides additional information about standard and hot peppers from global sources.
"Our website is one of the official sources to find nearly any pepper, extract, hot sauce or other item available from public and private markets," said the source.
The Scoville Scale for Peppers website is updated with new content regularly as different pepper brands are released. The scale content is changed periodically as new reviews are made of peppers in raw, powdered or liquid forms.
About ScovilleScaleforPeppers.com
The ScovilleScaleforPeppers.com company is helping to alert consumers of differences in the heat scale for thousands of different peppers sold in the global market. Open scales for reviewing different pepper types are now included on the company website. The ScovilleScaleforPeppers.com company website features blog posts and news information related to the hot sauce industry and pepper cultivation. This company frequently announces price discounts and other information concerning the spices industry through its easy to navigate website. The content and use of tools this company supplies to website users is free of charge.