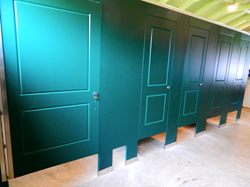 Scranton Products really came through for us. The partitions look fantastic! They are super-durable and something we won't have to worry about for a long time.--Mary Carroll Donahoe, UNC's Director of Development
SCRANTON, Pa. (PRWEB) October 17, 2017
Scranton Products, a leading manufacturer of HDPE bathroom partitions and lockers, recently donated partitions for 24 men's and women's restroom stalls in Hunter Green color to the United Neighborhood Centers (UNC) of Northeastern Pennsylvania's Camp Kelly. Located in Tunkhannock, PA, Camp Kelly, formerly Camp St. Andrew, has spent the past 47 years providing the underprivileged youth of Lackawanna County with a safe and fun place to learn and grow during the summer months.
The donation from Scranton Products was part of a $500,000 fundraising campaign aimed at repairing cabins, modernizing bathhouses, and making improvements to the pool and other facilities at Camp Kelly. "No one wanted to use the restrooms," says Mary Carroll Donahoe, UNC's director of development. "Fixing them was one of our top priorities. It was essential for creating a pleasurable camp experience and ensuring return visits for years to come."
Combining striking aesthetics and enhanced privacy, Scranton Products' partitions are designed to boldly enhance the elegance, warmth, and charm of virtually any enclosed or private room experience. In addition to removing sight lines for added privacy, each system also comes with a continuous edge-mounted hinge and floor-mounted side panel design that reduces the cracks and crevices that collect dirt.
According to Donahoe, the new partitions have combined with each building's red cedar design and fresh cement flooring to make the bathrooms "the talk of the camp grounds." Says Donahoe, ""We were over the moon. Scranton Products jumped on the chance to provide us with top-of-the-line bathroom stalls."
"This is the start of a new era and Scranton Products really came through for us," added Donahue. "The partitions look fantastic and are super-durable. Although there is still a lot to do, it's good to know the bathrooms are something we won't have to worry about for a long time."
About Scranton Products:
With over 25 years of experience, Scranton Products is the industry leader in plastic bathroom partitions and lockers. Constructed from premium, American made solid plastic, our products resist dents, scratches, corrosion, graffiti and mildew. When you purchase Scranton Products, you are investing in a peace of mind. With unmatched durability and an array of designer colors and textures, Scranton Products installs confidence in every product.
# # # #