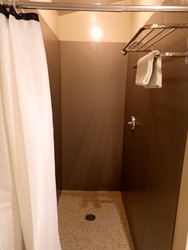 We're very happy with Designboard for the shower stalls. We have now found an excellent solution for these types of applications in the future.-- John Gastineau, Young Life Malibu Club
Scranton, PA (PRWEB) June 27, 2016
Young Life's Malibu Club in Egmont, BC, Canada, recently selected Vycom's Designboard to quickly upgrade their housing facilities.before a group from Seattle, Washington, arrived to start the 2016 season. Located in a serene setting at the mouth of the Princess Louisa Inlet, the Malibu Club's opening weekend was the perfect stress test for 30 new shower stalls lined with Vycom's Designboard made with HDPE. And, according to camp management, they passed with flying colors. The facility is now ready to welcome thousands of high school students from around the United States for the remainder of the summer. Surrounded by soaring mountains, the paid one-week experiences include hiking, paddling, water sports and other activities.
"We have started off the summer with no issues," says John Gastineau, site and facilities superintendent for Young Life's Malibu Club. "We like how the Designboard looks and the fact that it's super-tough and impermeable to water."
This will reduce maintenance costs to the club while letting them maintain their resort-like appearance for youth and adult guests alike. While Malibu Club is used exclusively by Young Life from June through August, the facility is available for retreats, conferences and events the remainder of the year.
Perfect for indoor or outdoor applications, Designboard's solid plastic material offers the rich designer shades and textures of wood and metals with the durability and weather resistance of solid HDPE. With superior scratch resistance, stiffness, and UV resistant options, it will not rust, corrode, rot, delaminate, or splinter.
Young Life, an organization focused on making a positive difference in the lives of adolescents, operates 32 resort-like facilities worldwide. Each year, more than 100,000 kids spend a weekend or week at one of the international camps. Gastineau learned about using Designboard for the showers from another camp in the organization, but Malibu Club was the first to use it in showers throughout a whole building. They used the 3/8-inch thick Designboard in brushed nickel color, supplied by Piedmont Plastics in Wilsonville, Oregon.
Originally, the Malibu Club poured concrete shower bases and planned to use a stone-like material for the walls. When the planned product became unavailable, Gastineau researched other options that would be attractive and thick enough to work with the concrete bases already in place.
"We talked to our other camps and one recommended using Designboard, because it could provide an impermeable layer on the wall but also offer the thickness to work with the existing concrete floors," says Gastineau. "The Designboard could also be supplied in time to meet our installation deadline."
He and his crew used adhesive to attach the Designboard to the wall, then welded the seams together using a heat gun and HDPE rod to make it impermeable to water--then used using standard silicone caulk around the edges and top of the stalls.
"We're very happy with how Designboard worked for our shower stalls," says Gastineau. "We have now found an excellent solution for these types of applications in the future."
To learn more about Young Life's Malibu Club, visit https://malibuclub.younglife.org.
About Vycom:
Vycom, a division of CPG International, is dedicated to maintaining an environment where quality meets performance. Vycom offers the largest range of products, capabilities and inventory for all your Olefin and PVC needs. For more information, visit http://www.vycomplastics.com.