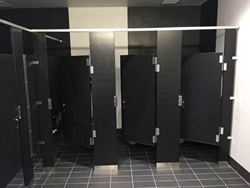 I enjoy exploring new product possibilities and was impressed with the restroom partitions from Scranton Products.-- Dory Tucker, Certified Interior Designer/Project Manager
Scranton, PA (PRWEB) October 04, 2016
Scranton Products' Hiny Hiders® restroom partitions were recently specified for the design and construction of the new 14,500 sq. ft. Chase Family Fitness Center at St. Mary's High School in Stockton, CA. The new facility was built specifically to enhance student physical health and the athletic ability of nearly 1,200 students and staff.
"This was an exciting project designed to invigorate and motivate all of the school's student athletes," says Dory Tucker, Certified Interior Designer and Project Manager for LDA Partners in Stockton, CA. "From an interior design standpoint, the trick was aligning the key elements of graphic design, durability and budget in a bold scheme that ignites athletic spirit."
"I enjoy exploring new product possibilities and was impressed with the restroom partitions from Scranton Products," she said. "The variety of colors and textures are different than what is normally offered relative to partitions. We were optimistic that their HDPE design would wear very well in an intense, athletic environment."
The new athletic center includes an impressive weight training room, a coaches "observation office", a fully equipped locker and restroom, as well as conditioning and space for the Ram's Varsity, Junior Varsity and female athletes. LDA chose Scranton Products' Hiny Hiders partitions in Black with EX raised dot texture for use in 11 bathroom stalls and eight urinal screens. A leading provider of unique, attractive interior partitions for the past 30 years, Scranton Products offers an assortment of HDPE products in a variety of colors and textures that never need painting. Unlike metal partitions which are subject to rust, Hiny Hiders offer superior resistance to dents, scratches, graffiti, corrosion, mildew and moisture.
"Durability was a key ingredient in the choice of the Hiny Hiders partitions," adds Tucker. "But, as we worked with the samples, we found ourselves continually picking them up to feel the texture--they were just so pleasing to the touch and eye that our firm has used them in other institutional projects over the past few years. They are a product of choice since we've yet to have a problem with any application."
About Scranton Products:
With over 25 years of experience, Scranton Products is the industry leader in plastic bathroom partitions and lockers. Constructed from premium, American made solid plastic, our products resist dents, scratches, corrosion, graffiti and mildew. When you purchase Scranton Products, you are investing in peace of mind. With unmatched durability and an array of designer colors and textures, Scranton Products installs confidence in every product.