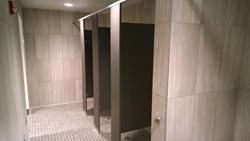 "Boosting morale was the project's main focus and the Tufftec lockers and Hiny Hiders blended very nicely into the overall concept. These are high quality and well-designed products that perform well." --Thomas Grier, architect
Scranton, PA (PRWEB) April 29, 2015
Scranton Products' Tufftec® Lockers and Hiny Hiders® bathroom and changing room partitions were recently selected as part of the design and construction of a new 3,300 sq. ft. fitness center located within the offices of a leading technology corporation located in Minnesota. Strength training and conditioning have recently become an integral part of the company's wellness program, helping employees stay fit yet easily transition from intense workouts back to work.
"We had a limited budget and strict design criteria," explains Thomas Grier, who served as the project's designer as a member of Armon Architecture in Rochester, MN. Installed in a neutral Sandstone color, he said the lockers and partitions needed to reflect a soothing environment while being easy to clean and maintain. "We only used materials that looked great and were sure to last for years."
Tufftec Lockers are designed to endure the wear and tear of athletic, healthcare and recreational environments. They withstand the harshest daily use, while remaining virtually maintenance free. The lockers are also impact, dent and graffiti resistant and impervious to moisture. The Hiny Hiders partitions are easy to clean and are naturally resistant to bacteria. Unlike metal partitions which are subject to rust, they offer superior protection against dents, scratches, graffiti, corrosion, mildew and moisture.
"High intensity group exercise is ideal for combining fitness with team bonding. Our goal was to create a fun, motivating environment, while offering a quieting atmosphere for transitioning back into the workplace with a sense of accomplishment and well-being," adds Grier. "Boosting morale was the project's main focus and the Tufftec lockers and Hiny Hiders blended very nicely into the overall concept. These are high quality and well-designed products that perform well."
About Scranton Products:
For more than 25 years, Scranton Products' premium brands have led the plastic partitions market setting new benchmarks for the industry in quality and innovation. Our well-known brands, including Hiny Hiders®, Resistall™ Tufftec® and Duralife®, feature the most durable, low maintenance and best looking partitions and locker products in the industry. They won't dent, rust or need painting, and because they have color throughout, delamination is not a factor. Visit http://www.scrantonproducts.com