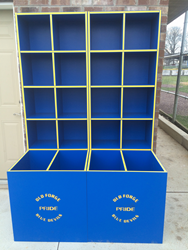 We are very pleased to support the local teams with our Tufftec product, as it will withstand the harsh eastern Pennsylvania winters. The new lockers will give the players and fans a sense of pride in their community. --David Casal, Scranton Products
Scranton, PA (PRWEB) June 17, 2015
With a new press box and dugouts in their home field, all the Old Forge Lions Little League needed was a low-maintenance, attractive system for their helmets and bats. Thanks to Scranton Products, their worn out wooden bat racks were replaced with two beautiful Tufftec® equipment cubbies for the bats and helmets. The League shares the field with the High School Blue Devils baseball team and the cubbies are emblazoned with the team's logo and colors of bright blue and gold.
Frank Pero, VP of the Old Forge Lions Little League in Old Forge, PA, had contacted CPG International, which is Scranton Products' parent company, to make it happen. Scranton Products agreed to donate the Tufftec cubbies to the team and Pero was able to install them easily onsite with a design that allows helmet storage above and stand-up bat compartments below. Located near the dugouts, the cubbies were conveniently configured with helmet storage above and stand-up bat compartments below.
Scranton Products is a well-known name in athletic stadiums and facilities, as a leader in HPDE (high- density polyethylene) bathroom partitions and lockers. Engineered for strength and durability, the Tufftec equipment cubbies are perfect for outdoor sports use, with the ability to withstand the harshest daily use. Tufftec is virtually maintenance free and provides longevity, as it won't rot like wood or rust or dent like metal.
"We are very pleased to support the local teams with our product, as it will withstand the harsh eastern Pennsylvania winters. The new lockers will give the players and fans a sense of pride in their community," said David Casal, Director of Sales & Marketing, Scranton Products. "May they enjoy them for many years to come."
Pero said the team is excited about their new facility improvements. "They look beautiful and inspire a lot of team spirit," he said. "The new Tufftec cubbies are a home run for the Little League and Blue Devils!"
About Scranton Products:
For more than 25 years, Scranton Products' premium brands have led the plastic partitions market setting new benchmarks for the industry in quality and innovation. Our well-known brands, including Hiny Hiders®, Resistall™ Tufftec® and Duralife®, feature the most durable, low maintenance and best looking partitions and locker products in the industry. They won't dent, rust or need painting, and because they have color throughout, delamination is not a factor. Visit http://www.scrantonproducts.com