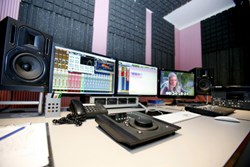 The relocation was necessary to accommodate the changes in our core business, linking our offices in Beirut, Stockholm, Cairo and Buenos Aires in a virtual global laboratory.
Beirut, Lebanon (PRWEB) January 15, 2014
Screens International, leading Arabic subtitling and dubbing company, relocated its head offices to the Masaad El Hajal center, on the Jal El Dib highway, in the first week of 2014.
The company spent the last two years planning and developing a high-tech infrastructure that links its offices in Beirut, Stockholm, Cairo and Buenos Aires in a virtual global laboratory, seeking larger horizons in the broadcast industry.
According to CEO, Joseph Akiki, "The relocation was necessary to accommodate the changes in our core business. Having been expanding our multi-language localization services, we needed offices to host more translators and subtitling experts in a comfortable Go-Green environment..."
In 1991, the company started as a small regional subtitling company and quickly grew into pioneer status by adopting first-hand technologies such as Digital Betacam subtitling, and later by becoming the first to adopt HD subtitling technology in the MENA region. By 1997, Screens International had built the most sophisticated dubbing and voice-over studios in the region. In 2007 Screens International added 3D subtitling to its portfolio, exposing it to more territories and more challenging ventures.
As 2014 starts, the company is soaring with success, taking on subtitling and dubbing projects for television networks and internet broadcasters in many languages such as Swedish, Norwegian, Dutch, German, French, Turkish, Russian, Arabic, Spanish, Portuguese, Farsi, Indian, and more… The Dubbing and Voice-over talents' library has also expanded drastically in the past few months. Screens International is now one of the world's finest providers of TV and Cinema localization, processing any film material to a naturally adequate version for broadcast in any part of the world.
It is indeed a thrilling challenge; to take into consideration various religious, ethnic, cultural, politic and historical particularities is a special know-how only acquired through long years of practice and direct exposure with a diverse client-base.
"What might be an acceptable translation of a slang in the United Arab Emirates, might be culturally unacceptable in the more conservative Kingdom of Saudi Arabia, even though both countries adopt the Modern Standard Arabic as official language," points out Nabil Charbel, Head of the Near-Eastern Languages department.
The relocation of Beirut's head offices was well planned and impeccably executed. Technical operations suffered no downtime, and the company remains operational 24/7 carrying out daily Arabic subtitling and Arabic dubbing projects. "We even took on several new projects the same day of the relocation!" says Key Account Manager Samar Nahas; that being one special Farsi dubbing and Arabic voice-over recordings for Bollywood movies in Hindi.
In a fast paced industry like broadcast media, it is essential to execute such changes without interruptions in deliveries. All teams worked hand in hand to ensure a smooth transition to the infrastructure upgrade that is already demonstrating improvements on numerous fronts.
CIO, Mario Daher explains: "…We're proud to see the results of these efforts come to fruition… Screens International has widened its compass to cover more interesting and vital services in the industry, such as Production for Video on Demand, Media Processing and mass digital library conversions... We now possess a more mature understanding of our clients' needs and it's only natural to go forward ahead of our 25 years reputation as leaders in Subtitling and Dubbing in the Middle East…"
Screens International is looking forward to the next 25 years with a revitalized spirit and an exceptional technical groundwork that will solidify its place as the world's number one Arabic subtitling and dubbing supplier. From multi-language localization to multi-screen media processing, Screens International undertakes the duty of contributing to the quality of not just their assets, but to the industry as a whole.
Being among the top companies in the field, Screens attracts aspiring new talents worldwide. From Peru to Norway, hundreds of job applications pour in each month. This is also an opportunity to announce continued recruitment to a company where solid careers are built.
Contact:
Mario Daher
+961 471 5999