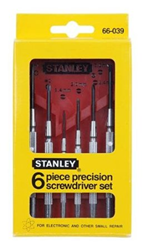 Dallas, TX (PRWEB) May 18, 2015
'The Hardware City,' an online store providing household goods to the customer announced free shipping on Stanley 6-Piece Jewelers Precision Screwdriver Set Set in a small press meet here today. Stanley tools box consist of six quality screwdrivers, which can be used for performing different functions effectively. Company is providing free shipping offer for limited period of time.
Speaking to the media, a representative of the company said, "We are glad to offer our product with no shipping charges. Now you can buy Stanley Tools on exact price mentioned on the website. 'The Hardware City' is the best place to buy this amazing set of screwdrivers. The offer of free shipping is valid for limited period so if you are planning to buy the product then this is the right time." He further added, "We have always tried to provide quality products to the customer at cost effective prices and aim to continue with the same in times to come as well."
The grip of screw drivers are designed in such a way that they are easy and comfortable to hold. Screwdrivers come with bright plated shafts fluted for grip. They come with blued finish, which prevents them from corrosion and gives a longer life. Steel blades are hardened and tempered, which makes screwdriver strong and unbreakable. Plastic storage case holds each screw driver appropriately. Space designed to hold screwdrivers prevents mixing and makes work of the user easier. Weight of the box with screw drivers is just about 0.33 lb, which means that it can be carried any where easily.
Screwdrivers are available in different size so that they can turn any type of screw. The Hardware City is providing Stanley Tools at $7.64 against the list price of $8.99. Customer can order the product online and pay the amount using PayPal account or credit/ debit card.
About TheHardwareCity.com
TheHardwareCity.com was founded in the year 2007. It is an online retail and wholesale store specializing in hardware, general merchandise and home hardware supplies. The website aims at providing quality service and product to the customers.