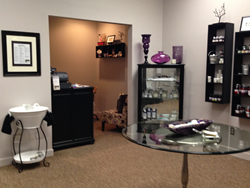 "Welcome to the heart of Bethpage" has been the comment heard most.
Bethpage, NY (PRWEB) April 14, 2014
When Roberta Perry and Michelle Tucker were starting Scrubz™ in 2006, they never dreamed they would be retail business owners and shop keepers. What first began in the dining room, moving to a small compounding room in the garage, and then opening in 2011 in 850 sq. feet of space, has now moved to bigger and better space, right in the heart of Bethpage. 1400 sq. feet of storefront, party room, treatment room and production. All Scrubz™ brand products are manufactured by hand, in small batches, on site.
The party room, home of the "Make your own Scrubz™ party", can now accommodate 25 people, and the separate treatment room is beautifully appointed, quiet and serene.
Scrubz Body Scrub, Inc. manufactures and distributes natural, handmade skin care products. For all skin types, including sensitive skin. For further information, please visit: http://www.scrubzbodyscrub.com