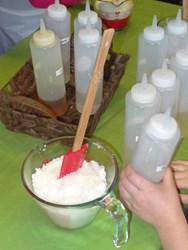 I never knew learning about skin care could be so much fun!
Bethpage, NY (PRWEB) January 29, 2014
Adults love "Make your own Scrubz™ parties as much as Teens and Tweens do, because everyone is getting an education about properly taking care of their skin, just by having fun.
A pampering hand massage introduces guests to the benefits of exfoliation and natural oil moisturizing. Then, the inner artist in everyone emerges with the decorating of the jars and bags. Food, drink and laughter come before the scent creations, when guests get Unscented Scrubz™ ready to mix with 100's of different fragrance combinations. They learn about scent structure and the "notes" of fragrance, too. A recent partygoer said, "I never knew learning about skin care could be so much fun!"
Adult and Ladies night type parties include adult themed food and beverage and treatments such as reflexology and massage as an add-on option.
It's a new kind of party with a healthy, relaxing and educational twist.
Scrubz Body Scrub, Inc. manufactures and distributes natural, handmade skin care products. For all skin types, including sensitive skin. For further information, please visit: http://www.scrubzbodyscrub.com.