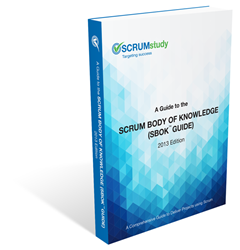 To help professionals learn more about Scrum, and to help them identify opportunities where they can use Scrum in their projects, SCRUMstudy provides the free Scrum Fundamentals Certified course
Phoenix, Arizona (PRWEB) August 22, 2014
In recent years, it has become evident that organizations using Scrum as their preferred project delivery framework consistently deliver high Returns on Investment. This has moved increasing numbers of companies to encourage their employees to become trained and certified in this Agile approach. But as a professional, one needs to understand the different aspects of Scrum and identify the exact elements of Scrum that are most suitable to his or her profile. To help professionals learn more about Scrum, and to help them identify opportunities where they can use Scrum in their projects, as well as learn the roles and responsibilities of different individuals on a Scrum team, SCRUMstudy provides the free Scrum Fundamentals Certified course.
The Scrum Fundamental Certified free online course is tailor-made to introduce the concepts and benefits of the Scrum approach to professionals who have either very limited or no knowledge of the Scrum framework. The course is especially helpful for individuals who are considering implementing Scrum in their projects or want to know the details of the Scrum approach or even want another resume point. Once a professional is Scrum Fundamental Certified, he or she is in a better position to identify the roles and responsibilities of different team members and the respective certification each team member should have. The SFC professional also has a first-hand knowledge of the increase in ROI he or she can realize by adopting the Scrum framework. Just follow two simple steps to get your SFC certification. Join SCRUMstudy LinkedIn Group; Register for the free Scrum Fundamental Certified course here.
As the global accreditation body for Scrum and Agile certifications, SCRUMstudy works through its worldwide network of Authorized Training Partners to deliver training and certifications. Through more than 160 Authorized Training Partners, SCRUMstudy provides Scrum Developer Certified (SDC™), Scrum Master Certified (SMC™), Agile Expert Certified (AEC™), Scrum Product Owner Certified (SPOC™), and Expert Scrum Master Certified (ESMC™) certifications that are customized to suit different professionals with different responsibilities in a project team.
Apart from the free Scrum Fundamental Certified course, an online copy of A Guide to the Scrum Body of Knowledge (SBOK™ Guide), is available to professionals free of cost from SCRUMstudy. Scrum certification aspirants can access this body of knowledge by downloading a free version of the e-copy here.
The SBOK™ Guide is a definitive guide for organizations and project management practitioners who want to implement Scrum, as well as to those already doing so who want to improve their processes in a project. It is based on experience drawn from thousands of projects across a variety of organizations and industries. The contributions of many Scrum experts and project management practitioners were used in its development.
More about the fast growing Scrum framework of project delivery and the different certifications in the domain can be found at http://www.scrumstudy.com.