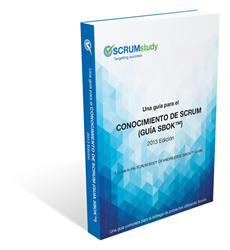 The release in Spanish is the first of many translations of the SBOK™ Guide, with releases in German, Italian and Chinese to follow shortly.
Phoenix, AZ (PRWEB) July 09, 2014
In step with its stated mission to increase the popularity and usage of Scrum and Agile, SCRUMstudy says it has taken another step toward welcoming all into the global Scrum/Agile community by localizing their high-quality content to cater to non-English speaking audiences. By translating the SBOK™ Guide and certification exams into local languages, SCRUMstudy ensures that language does not become a barrier for people who innovate, develop products and manage projects in their organizations worldwide. It offers a free e-copy of the Spanish version of A Guide to the Scrum Body of Knowledge (SBOK™ Guide) to its students. Students can now take their Scrum Developer Certified (SDC™), Scrum Master Certified (SMC™), and Agile Expert Certified (AEC™) exams in Spanish.
The SBOK™ Guide was developed to aid organizations and project management practitioners who want to implement Scrum, as well as those already using Scrum who want to improve their processes. It is based on experience drawn from thousands of projects across a variety of organizations and industries. The contributions of many Scrum experts and project management practitioners were used in its development. To ensure that the quality of its content and techniques remains high, SCRUMstudy has the teaching materials regularly reviewed by a team of experts who analyze the content for relevance. The Guide can be used as a reference manual and knowledge guide by experienced Scrum product and service development practitioners, as well as by individuals with no prior experience or knowledge of the Scrum project delivery framework.
The first chapter of the SBOK™ Guide describes the purpose and framework of the SBOK™ Guide itself. Chapter 2 expands on the six Scrum principles that are the foundation for the Scrum framework. Chapters 3 through 7 elaborate on the five Scrum aspects that must be addressed throughout any project: organization, business justification, quality, change and risk. Chapters 8 through 12 cover the 19 commonly used Scrum processes involved in carrying out a Scrum project. These processes are part of the 5 Scrum phases: Initiate; Plan and Estimate; Implement; Review and Retrospect; and Release. Besides providing this professionally researched Guide for free to benefit the Scrum community, SCRUMstudy also provides Scrum enthusiasts with many free resources including their Scrum Fundamental Course, more than 500 minutes of videos, crosswords, mobile apps and case studies.
In recent years, it has become evident that organizations using Scrum as their preferred project delivery framework consistently deliver high Returns on Investment. The focus of Scrum on value-driven delivery helps Scrum Teams deliver results as early in the project as possible. Moreover, managing changes is easier through the use of short, iterative product development cycles and frequent interaction between customers and Scrum Teams. These benefits have fueled Scrum's rapid growth. Since Scrum is a framework, it continuously evolves, leading to new insights and best practices for teams using Scrum. In order to provide a platform for all Scrum Masters to share their experiences and learn from each other, SCRUMstudy's group on LinkedIn has launched a discussion forum for Scrum enthusiasts to share their thoughts and innovations. To keep yourself aware of the latest developments in the Scrum/Agile community, join the SCRUMstudy LinkedIn group today.