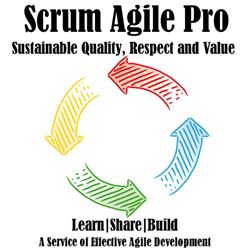 The biggest problem that most ScrumMasters face is defending the team from Scope Creep. We are going to have some strategies for defending your team and product. - Rod Claar, CST
Seattle, WA (PRWEB) January 29, 2014
Scrum Agile Pro, a new service of Effective Agile Development LLC (EAD), offers twice monthly educational webinars. All webinars are recorded and available on the website for members. Be sure to check out the video excerpt from the last webinar, "Scaling Scrum."
Scrum Agile Pro's next webinar will address one of the most common pitfalls encountered by professionals using Scrum: dealing with new work in the a sprint.
Scrum is an agile project management methodology which uses time limits called sprints to allow a small team to work uninterrupted on items which the team has committed to complete prior to the start of the sprint. Commonly, however, before the sprint is over new work or requirements are uncovered which the business believes are more important than the work which the team has committed to for the current sprint. How should this be handled to both deliver the most business value and protect the productive capacity of the team?
The webinar will be held on January 30, at 7:00pm Pacific Time. This webinar will be free for members and non-members. Members will also enjoy access to a recorded version of the webinar. Future Scrum Agile Pro webinars will be just $20 for non-members and free for members. Registrations for the webinar are limited and are available on a first come, first serve basis. Register now via EventBrite.
Rod Claar, CST will discuss how ScrumMasters, Product Owners, and the Team can be responsive without reducing quality and impacting sustainability. The webinar will cover how to apply agile values to evolving requirements and offer some suggestions for practices that will help an organization deliver the most business value when business priorities change during a sprint. There will be time for questions from webinar participants, as well as an open Scrum Q&A session after the planned content is delivered. This webinar is suitable for anyone with a basic knowledge of Scrum.
There are many potential sources of new work for a team during a Sprint. Critical issues get missed during Sprint Planning, the Product Owner learns more about what the client needs, clients have new and urgent needs, the business needs something, and of course general Scope Creep.
Effective Agile Development LLC (EAD) is a privately owned training and consulting company based in the Seattle area specializing in Scrum and Agile product development. EAD offers a comprehensive training portfolio for public or private delivery and on-site team coaching. A complete list of services is available on the EAD web site. For more information, contact EAD at info(at)effectiveagiledev(dot)com or toll free at 1-888-294-1865.