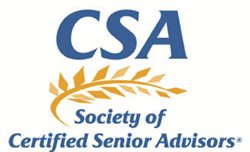 Attendees of the CSA education course will gain the knowledge and tools necessary to work more effectively with their senior clients.
(PRWEB) May 22, 2014
The Society of Certified Senior Advisors (SCSA) announces a new class for its bestselling Certified Senior Advisor (CSA) course in Charlotte, June 24th - June 27th, 2014. The CSA course teaches anyone who works with older adults about the strategies and tactics for working more effectively with the senior customer. CSA courses are held in locations around the country. See the upcoming class locations at Certification Classes.
Attendees of the CSA education course will gain the knowledge and tools necessary to work more effectively with their senior clients. This course covers why a comprehensive understanding of the unique goals and challenges facing seniors today helps to better serve and protect them. This is an in-depth class with first-rate faculty and rewarding results for both attendees and their senior clients. The CSA course coming to Charlotte will be taught by SCSA's expert instructors Susan Miedzianowski and Bill Yurkovac, CFP.
Susan Miedzianowski, PhD, CPC, CSA
Susan Miedzianowski, PhD, CPC, CSA, is a faculty member for the Society of Certified Senior Advisors and Assistant Professor teaching gerontology as well as the business of health care at several colleges across the country. Susan has more than 40 years of experience in the healthcare industry, and in her educator role focuses on the philosophy that education should always be a fun, experiential, empowering and meaningful process. She currently serves as Chairman on the Editorial Board of The CSA Journal. Susan holds a Bachelor of Nursing from the University of Detroit, a Master's Degree of Science in Healthcare Administration from Central Michigan University and has a PhD from Capella University in Human Services with a focus on Gerontology.
William P. Yurkovac, CFP®, is a financial planning team member with Arnold, Gentleman & Associates in Naples, Florida. He provides a wide range of financial planning and consulting services specializing in estate planning, wealth management and preservation. A native of Western Pennsylvania, Bill attended Duquesne University in Pittsburgh where he graduated with a Master's Degree in Education. Bill has over thirty-five years of experience in financial planning from experience as an independent financial advisor and private banking. Bill received his certification in 1990. Bill has served as an instructor in the multiple courses in the Certified Financial Planner™ certification program of study as well as review courses for the certification examination since 1998. He also has served on the Board of Directors of several community based non-profit organizations, as a mentor in the Take Stock in Children program, and serves as the treasurer of his local church. Bill is a member of the Financial Planning Association and the Estate Planning Council of Naples. He and his wife, Leslie, are residents of Naples and have four children and two grandchildren.
The CSA Review Class will be held at the Four Points by Sheraton Charlotte – Pineville, 9705 Leitner Dr., Pineville, NC 28134. Following the at-home study program, the optional class review will be held over the first three days of class. For more details on the course curriculum and comprehensive study materials, please visit Working with Seniors.
Attendees of the CSA class review have the option to sit for the CSA Exam following the 3 days of class. In order to become Certified Senior Advisors, candidates must pass the CSA Exam in addition to meeting all certification requirements.
About SCSA
Individuals who earn and maintain the Certified Senior Advisor (CSA)® credential are entitled to become members of the Society of Certified Senior Advisors (SCSA), an organization dedicated to helping professionals understand the key health, social and financial issues that are important to older adults. Founded in 1997, SCSA offers a vast array of resources and education specifically related to issues affecting seniors.