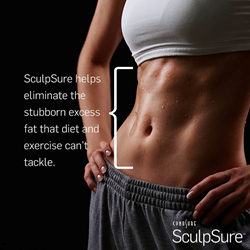 "I'm confident that SculpSure™ will be a game changer in non-invasive fat reduction."
Scottsdale, Arizona (PRWEB) November 02, 2015
The SHAW Center for Aesthetic Enhancement is the first in Arizona to add SculpSure™ by Cynosure to it's list of fat reduction, body contouring procedures which also includes two CoolSculpting™ devices. With nearly thirty years of body contouring experience, Dr. Lawrence Shaw, a Scottsdale plastic surgeon, feels there is definitely a place for this revolutionizing, non-invasive laser fat reduction procedure in his busy Scottsdale plastic surgery practice.
"There is a strong, ever increasing demand for non-invasive fat reduction procedures that can address the concerns of women and men who are otherwise fit, but despite diet and exercise, still have stubborn pockets of fat, "says Dr. Shaw, a board certified plastic surgeon. "I believe that SculpSure™ will be a perfect companion to CoolSculpting™ giving us the ability to effectively and efficiently treat nearly all areas of the body."
The SculpSure™ laser uses a 1060nm laser delivered by four panels using Contact Cooling™ technology, placed in various configurations, to heat underlying fat tissues without damaging the skin. The FDA cleared, clinically proven and safe treatment initiates a process that leads to the loss of fat cells. Treatments only take approximately 25 minutes and results are visible over the course of 1-3 months.
SculpSure™ is ideally used to eliminate fat bulges resistant to diet and the results look completely natural. A recent Clinical study showed that one treatment removes 24% of the fat in the treated areas. Treatments can be repeated after 2-3 months to further enhance the result.
"Always striving to provide the best care possible, I am excited to offer SculpSure™ to my patients who want to reduce fat in specific areas without surgery or downtime," says Dr. Shaw. "Patients experience a warm sensation and with no discomfort during their SculpSure™ procedure," he adds. "Our patients are given an IPad to browse the internet, watch a movie, or catch up on their emails, Instagram or Facebook during the treatment. After having the 25 minute SculpSure™ treatment in our comfortable facility, patients can immediately resume their normal activities, including work and exercise." Dr. Shaw feels the "on the go" lifestyles of his patients in the Phoenix / Scottsdale Arizona area makes these non-invasive, no downtime fat reducing options extremely popular.
The Body Contour Center of Scottsdale at The SHAW Center offers surgical body contouring procedures including tumescent liposuction, ultrasonic liposuction, laser assisted laser lypolysis or SmartLipo, tummy tucks and mommy make overs. "Because we offer a full spectrum of surgical and non-surgical options, we have the unique ability to customize each treatment plan to fully address and achieve the patient's concerns and aesthetic goals," claims Dr. Shaw. "Those consulting with us can be assured that we will only recommend SculpSure™ and CoolSculpting™ when we feel it is absolutely indicated and has the best chance for success". Watch YouTube Video: SculpSure™ | The SHAW Center Scottsdale
About The SHAW Center
At The SHAW Center for Aesthetic Enhancement in Scottsdale, Arizona (http://www.theshawcenter.com), board-certified plastic surgeon Dr. Lawrence W. Shaw also offers innovative plastic surgery procedures including cosmetic breast surgery, body contouring, face lifts, autologous fat transfer and rhinoplasty. In addition, The Spa at The SHAW Center offers a full array of options to rejuvenate the skin by enhancing both its health and its appearance including Botox, injectable fillers, advanced skin care and peels, fractional laser resurfacing, FotoFacial™, laser skin tightening, CoolSculpting™, vein treatments, laser hair removal and hair restoration.
About Dr. Shaw
After earning his undergraduate degree from Emory University and his medical degree New York Medical College, Dr. Shaw trained extensively for seven years in both general and plastic surgery before establishing his successful Scottsdale plastic surgery practice. He is double certified by both the American Board of Plastic Surgery and the American Board of Surgery and a member of the American Society of Plastic Surgeons (ASPS) and the American Society for Aesthetic Plastic Surgeons (ASAPS).
About Cynosure, Inc.
Cynosure designs, manufactures and markets medical devices for aesthetic procedures and precision surgical applications worldwide. The Company's products enable plastic surgeons, dermatologists and other medical practitioners to perform non-invasive and minimally invasive procedures to remove hair, treat vascular and benign pigmented lesions, remove multi-colored tattoos, revitalize the skin, liquefy and remove unwanted fat through laser lipolysis, reduce cellulite, clear nails infected by toe fungus, ablate sweat glands and improve vaginal health.