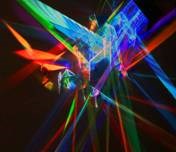 Light is not pigmented and refuses to be contained and it is unlimited in colors that, in a Light Sculpture, can magically change with as little as a 1/64th of an inch alteration in the angles of the glass and light.
Fond du Lac, WI (PRWEB) September 24, 2013
Yes, amazing things can happen in Fond du Lac, Wisconsin. A university professor and artist, Dr. Anthony Dallmann-Jones, has developed a new and very unusual art form involving special metallicized glass penetrated by a highly focused light beam. SculptedLights.com is a brand new website designed to showcase this startling mind and light-bending visual art form that all began with NASA.
Sculpted Lights officially kicks off this fall, although two pieces are already sold. An interior decorator in Cincinnati bought the first one and a dermatologist in California just bought the second one. Tony's studio is in the lower level of his home on Wolf Creek just outside of Fond du Lac. A professor at local Marian University by day for over 20 years, he states, "Now that I have all the right glass, mountings, lights and grinding and drilling machinery, we should be in full production by January."
The recently launched SculptedLights.com website showcases the results of nearly ten years of research and trial and error experiments. Tony has exhibited in galleries and shows nearly a dozen light sculptures over the last three years and is just now ready to go into production. A self-admitted perfectionist, it took over 15 months of R&D for him to develop the right glass holding brackets and longer to find a glass laminator that could meet the rigid specifications required to produce the special glass needed.
During his days as a gallery owner, Tony had experimented with utilizing light beams as a possible new art form. "Most new art begins with playing around," Tony says. "During the recession the gallery was not exactly a hubbub of activity, so I began to construct experimental pieces to see how people would react. It allowed me the valuable opportunity to survey literally hundreds of art enthusiasts and determine what 'popped' and what didn't."
It appeared that mainly two things fascinated first time viewers: 1) brilliant colors and 2) the fact that all of the colorful rays are derived from a single white beam. "In a Light Sculpture there are colors which have no name because colors in a light beam supersede definitive pigmentation compositions one might find in paints, colored pencils, or in that box of 120 Crayolas we all lusted after in grade school," Tony says. "Light is not pigmented and refuses to be contained and it is unlimited in colors that, in a Light Sculpture, can magically change with as little as a 1/64th of an inch alteration in the angles of the glass and light."
Tony designed and had his special metallicized laminated glass made in Oregon, has it cut industrially locally, then polishes, drills and mounts it himself or with the help of a technician/carpenter/electrician.
"The light beams are my brushstrokes," Tony states. "I can spread them 20 feet across a corporate lobby or family living room wall OR I can even contain them in a shadow box frame as small as 3 feet square. It depends because each Light Sculpture is custom made and there are several alternatives on how they are attached to the wall." Light Sculptures are designed and created in about 60 days. Corporate or museum pieces can take several months.
Tony adds, "Sculpted Lights are tailored to customers' dimensions, needs and to some extent, color preferences. Some people desire a lot of blues, others want brilliant reds and greens, some like subdued colors; so each commission begins with a conversation. Of course, I reserve a certain amount of artistic license and the piece often will not be denied its own voice."
About Sculptured Lights
Sculpted Lights specializes in painting with light beams. Light artistry is a new art form, and Light Sculptures by Anthony Dallmann-Jones are designed to split one white beam of light into cascades of brilliant rays which are then utilized much as an oil painter would use brushstrokes. The glass utilized is a specially formulated and manufactured prism-like glass, a glass product originating from NASA experiments to discover a way to protect astronauts' eyes from direct sunlight in outer space. For more information, visit http://www.SculptedLights.com or e-mail Tony at asdjones(at)gmail(dot)com.