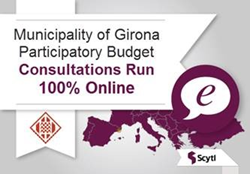 The successful deployment of the online channel and the significant increase in participation encourages us to continue leveraging the use of innovative tools like online voting in the years to come. M. Ángeles Planas, Deputy Mayor and Councilor
Barcelona (PRWEB UK) 13 July 2016
The Municipality of Girona saw a 40% increase in citizens participation levels during its 2016 online participatory budgeting consultation according to Scytl, the global leader in secure election management and online voting solutions. With a 75% uptake of the online channel in 2015 when both the new online and paper based channels were available, the City Council opted to best leverage the efficiency of the channel and the participation accessibility it gives its citizens.
Scytl Online Voting was first deployed in Girona in 2015 and provided its citizens an alternative channel to the traditional paper based voting. The results were an astounding success with 75% of participation coming through the new online channel. In 2016 participation more than doubled that of 2014 where the only voting channel available was paper voting.
The new online participatory budget consultation took place in June and invited citizens of Girona to select which of the 92 projects assigned to their corresponding neighborhood they wanted to prioritize. To support citizens with little expertise with online technology, on June 4th, the City Council opened 10 electoral colleges across all neighborhoods to allow citizens to vote online with assistance via onsite kiosks.
The consultation was customized down to the neighborhood level, ensuring citizens could vote for those projects that affect the specific area they live in. During the voting period, citizens were able to securely and comfortably vote anywhere from the device of their choice (computers, laptops, smartphones or tablets) at a time and date that was convenient for them. This confirms that securely and efficiently embracing the channels citizens use on a daily basis have helped ensure the consecutive success of this consultation.
"For the second consecutive year, the citizens of Girona have expressed their trust in the online channel for participatory processes. The successful deployment of the online channel and the significant increase in participation encourages us to continue leveraging the use of innovative tools like online voting in the years to come," concludes the Deputy Mayor and Councilor of Finance and Internal Affairs, M. Ángeles Planas.
About Scytl
Scytl is the global leader in secure election management and electronic voting solutions. Specializing in election modernization technologies, Scytl offers the first end-to-end election management and voting platform, providing the highest security and transparency standards currently available. Scytl has capitalized on its more than 18 years of research to develop election-specific cryptographic security technology protected by more than 40 international patents and patent applications, positioning Scytl as the company with the largest patent portfolio of the industry.
Scytl's solutions have been successfully used in over 42 countries across the globe over the last 10 years, including Canada, the United States, France, Norway, Switzerland, Bosnia-Herzegovina, the UAE, India, Iceland and Australia. Scytl is headquartered in Barcelona, Spain, with strategic offices in the United States, Canada, Brazil, Peru and Greece, as well as field offices in the UK, Ukraine, Mexico, Malaysia, India, Bangladesh and Australia. For more information, visit http://www.scytl.com.
Media Contacts
Leticia Barcia
Vice President of Marketing, Scytl
leticia.barcia(at)scytl(dot)com
+34 934 230 324