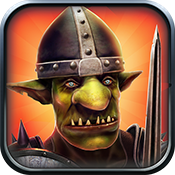 With Dark Frontier, we've designed a classic fantasy game, but combined it with innovative gameplay.
Florianópolis Area, Brazil (PRWEB) November 26, 2013
Dark Frontier is an innovative new mobile game that dares players to take on a variety of enemies, all while enjoying the realistic 3D graphics and unparalleled sounds. Dark Frontier, the brainchild of Sea Ape development studio, is a new app that combines cutting-edge graphics, with thought-provoking game play, providing hours of entertainment for the user.
Players of Dark Frontier are expected to defend the realm against the hordes of unlikely enemies, including zombies, goblins and ogres. As the player progresses through the levels, they're able to access an increasing number of heroes and powers.
There are two versions of the game—Dark Frontier and Dark Frontier Free. The Dark Frontier version of the game is $2.99, and offers the player 90 possible levels on nine different maps. Dark Frontier Free features endless waves of hordes on three different maps. There are also available in-game purchases, although they are optional.
The game is available for the iPhone 4 and above, the iPad 2 and above, and dual-core Android devices.
"With Dark Frontier, we've designed a classic fantasy game, but combined it with innovative gameplay," said the creator of Dark Frontier. "Players are transformed to a world of 3D magic and mysticism, right on their mobile device. We're really pleased with this product, and excited about the launch; we feel players are going to be really happy with the game, and we're also eager to see how players will tackle each distinctive challenge."
Dark Frontier has been featured on PreApps.com, a site dedicated to connecting developers and app users, and has already earned tremendous fan accolades for everything from the storyline to the background.
For more information about Dark Frontier, visit http://www.preapps.com/new-iphone-ipad-android-apps/dark-frontier/594.
About Sea Ape Entertainment
Sea Ape Entertainment is an app development studio based in Brazil. For more information, visit their website at http://www.seaape.com/.