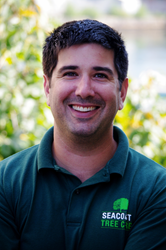 We'll continue to monitor evolving safety standards and best practices as outlined by the TCIA, and work towards a perfect safety record.
Stratham, NH (PRWEB) August 28, 2014
Dan Mello, the owner of Seacoast Tree Care, the premier tree service company serving the Seacoast regions of New Hampshire, northern Massachusetts and southern Maine, has completed the Certified Tree Care Safety Professional (CTSP) certification. The CTSP program is the tree care industry's leading safety program, empowering and encouraging a culture of safety within the industry.
"We're proud of the new safety certification," stated Mello. "We've always been dedicated to a high level of safety for our crew, our customers and the general public, and being CTSP certified shows our continued commitment to being the safest, most professional organization in the region."
Maintaining a Certified Treecare Safety Professional on staff means that organizations are committed to safe practices in arboricultural operations. CTSP's are kept abreast of the latest technological advances and regulatory activities affecting the industry through the TCIA safety network, and must commit to ongoing education in the safety field in order to maintain their certification.
"It's an interesting course, and reaffirms the procedures we currently have in place," stated Mello. "The knowledge and techniques in the certification are very similar to what we have implemented in our current safety regimen. We'll continue to monitor evolving safety standards and best practices as outlined by the TCIA, and work towards a perfect safety record."
Because safety regulations and industry standards are continually evolving, the ongoing education requirement is vital to maintaining a legitimate safety program within a given company. In order to fulfill program requirements, CTSPs must complete a study guide, attend a two-day training workshop, and pass a rigorous exam. Once certified, CTSP's must complete at least 30 hours of training others, or receiving education themselves, every three years.
Consumers can have greater peace of mind with the knowledge that hiring a tree care company with a CTSP on staff helps to ensure safe and professional arboricultural work on their property.
About Seacoast Tree Care
Led by a certified arborist and staffed with a team of college educated professionals, Seacoast Tree Care is recognized as the regions's leading full-service tree care provider. Expert prevention and maintenance of all tree and shrub species, as well as a comprehensive plant health care and lawn care program has created an unsurpassed reputation with discerning homeowners, commercial clients and landscaping professionals. http://www.seacoasttreecare.com
About the Tree Care Industry Association
Founded in 1938, TCIA is a public and professional resource on trees and arboriculture. It has more than 2,000 member companies who recognize stringent safety and performance standards and who are required to carry liability insurance. TCIA also has the nation's only accreditation program that helps consumers find tree care companies that adhere to industry standards for quality and safety; maintain trained, professional staff; and are dedicated to ethical and professional business practices. With access to the latest and best safety standards and training, the typical TCIA member company has 50% fewer accidents than a typical non-member.