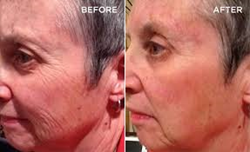 Break the aging cycle with Seacret's revolutionary Recover Technology. Recover products contain patented silica nano-particles that physically lift the skin, instantly diminishing the appearance of fine lines and wrinkles...
Phoenix, Arizona (PRWEB) September 06, 2014
https://seacretdirect.com/26462/en/us/ People around the world are getting rare access to the miracles from the Dead Sea. There are so many wild claims brands make about products, but the truth is, most of it is just advertising and there is no validity to the statements.
As people age, they sometimes opt to go under the knife to get rid of wrinkles and plump different areas. Seacret Minerals From The Dead Sea, however, is emerging as one of the top products to rejuvenate complexion.
It utilizes a unique formulation of ingredients from the Dead Sea, which is believed to hold the secret to youth. Seacret is a skincare brand that provides users with an advanced formulation and integration of "nature's true gift," the Dead Sea.
Every product that Seacret releases contains minerals and technologies that have been clinically proven to deliver immediate results to the skin (Seacret spa products get results). Seacret's products have been tested and proven effective by nature.
The Dead Sea has been providing the world with healing abilities for more than 5,000 years, so Seacret formulated products that utilize these healing ingredients. Seacret integrated patented silica Nano particles into the products that lift the skin and diminish fine lines and wrinkles.
Products in Seacret's line that are available on the market include cleansers, exfoliators, moisturizers, cleaners, and more. There are specific products for face, body and nails and certain products were developed to make skin look youthful and radiant.
Seacret was created in 2005 to use natural ingredients that can be found in nature to provide the world with products that are gentle on the skin and work effectively.
Call us today toll free at 1-800-498-6087
For more information, visit https://seacretdirect.com/26462/en/us/opportunity/preferred-customer/