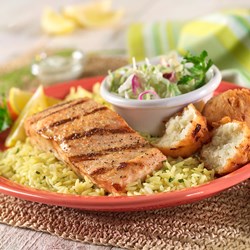 San Antonio, TX (PRWEB) October 07, 2013
October is National Seafood Month, a time to raise awareness about the health benefits associated with the consumption of fresh fish and seafood. People are encouraged to eat fish and seafood twice per week for Omega-3 fatty acids that deter disease and aid in overall physical and mental health.
Omega-3 fatty acids are essential fatty acids as the human body requires them to function normally. Since the human body does not make them, it must get them from diet instead. They are thought to play an important role in reducing inflammation throughout the body, and studies show that they may also help with rheumatoid arthritis and depression. (http://www.webmd.com)
Sea Island Shrimp House is open from 10:45 a.m. to 9:30 p.m. Monday through Thursday, from 10:45 a.m. to 10 p.m. Friday and Saturday, and from 11 a.m. to 9 p.m. Sunday. All six locations offer patio dining, playscapes, beer and wine, daily specials, to-go meals, and party platters. Party room reservations are also available. For more information, visit http://www.shrimphouse.com.
About the Company:
Sea Island Shrimp House, a local San Antonio seafood restaurant icon, has been sourcing and serving the freshest, wild-caught Gulf seafood since opening its first location in 1965. The restaurant's family-friendly atmosphere, delicious food and affordable prices have made this a San Antonio favorite for more than 47 years.
Family-owned and operated from the beginning, the six San Antonio locations serve only premium fresh seafood that features the best shrimp, scratch cooking and a passion for flavor and value. Sea Island Shrimp House is known for food that is simple, fresh, fast and affordable. They offer numerous seafood specials, as well as kid's meals. San Antonio agrees -- Sea Island has been voted "Best Seafood Restaurant" in the San Antonio Express News' Reader's Choice Poll since it began 2001.