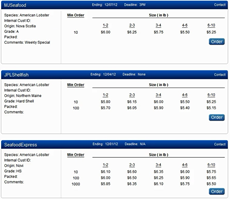 SeafoodGrabber is where online networking meets eCommerce and it provides a great benefit to every business that buys or sells seafood.
Boston, MA (PRWEB) January 08, 2014
SeafoodGrabber is the first B2B networking site that accumulates and organizes prices from wholesale seafood suppliers, and then displays unique pricing to each buyer. The online marketplace borrows the best traits from business networking and e-commerce sites, to create a new way for wholesale seafood buyers and suppliers to do business. SeafoodGrabber streamlines how unique pricing information is sent to buyers, standardizes how products are listed, and displays suppliers pricing side-by-side so that buyers can review prices in an easy to compare format.
SeafoodGrabber's platform allows wholesale seafood buyers and suppliers to network with each other and establish virtual connections. It's through these connections that suppliers send unique and customized pricing to each of their buyers. Buyers can view pricing for all of their seafood, from all of their suppliers, in real time and in an easy to compare format. The online marketplace simplifies how wholesale business is done by removing the need for suppliers to constantly e-mail PDF's, Excel files, and fax pricing lists to each of their customers.
Once a buyer finds the right product at the right price, they have the option of sending a purchase order directly to their supplier through SeafoodGrabber. "Our blend of technology and functionality has enabled us to leapfrog over other basic sites that attempt to help suppliers sell wholesale seafood, or those other sites that are nothing more than an online directory," says Warren Browne, CEO and Founder of SeafoodGrabber. "Our platform helps buyers, such as restaurants, hotels, and supermarkets get the best pricing by connecting them with multiple suppliers and displaying that pricing side-by-side. With the recent announcement of Sysco and US Food merging, the timing of our launch is perfect because this consolidation of industry giants will definitely drive up prices for buyers."
In addition to benefiting buyers, SeafoodGrabber offers suppliers an opportunity to promote their business, develop a network of new customers, and service existing ones. SeafoodGrabber's matching software will suggest new buyers that suppliers should network with based on the seafood products listed in their profile. "Don't think of SeafoodGrabber as replacing the need for a sales force," says Warren to suppliers, "but rather think of it as another extension of your business that provides additional value to your customers to help differentiate yourself from your competitors."
About SeafoodGrabber.com
SeafoodGrabber is a business networking and e-commerce site for the wholesale seafood industry. SeafoodGrabber allows suppliers to provide customized pricing to each of their customers, and customers can view unique pricing from all of their suppliers, in a real time, confidential, and structured format. For more information on the benefits and services provided, or to join, please contact Info(at)SeafoodGrabber(dot)com or visit http://www.SeafoodGrabber.com.