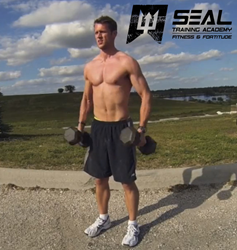 By far one of the most challenging workouts I have done. SEAL OF STEEL really pushes your cardio and muscular endurance right up to your limits and thats why I love it! - Eric Foran, Assistant Strength & Conditioning Coach for the Miami Heat
New York, NY (PRWEB) April 02, 2014
SEAL Training Academy, an online physical fitness enterprise founded by two top conditioning experts, has begun marketing a training program designed for those seeking to approach the fitness level of the famed U.S. Navy SEALS Special Ops teams.
"Our SEAL OF STEEL™ online workout program is designed for every initial fitness level," says former U.S. Navy SEAL and program co-creator Brett Hess. "Whether your goal is qualifying for Special Forces, a career in law enforcement, conditioning for combat sports or simply getting into the shape of your life—this program is ideal."
Working out like the best of the best do is now just a mouse click away, he adds.
The program has proved popular with both men and women, and a week's introductory membership is offered for free, Hess notes.
Each online workout is purposely patterned after the Navy SEAL daily fitness regime. University of Florida javelin thrower Doug Nelson, the program's co-creator, says daily training sessions build on the previous day's to ensure continuous physical improvement.
"The SEAL OF STEEL™ online workout program offers basic, intermediate and advanced levels and delivers a new workout each week right to the client's web page—called the Ready Room," Nelson adds. "Each week's plan is different to keep your body guessing. Proven muscle building, strength gaining and fat-loss strategies are all built in."
And program subscriptions can be discontinued at any time right on the website, as there are no long-term contracts involved. Clients pay month to month for the service, he notes.
Besides offering military level fitness workouts, SEAL Training Academy also arranges special training and competitive events like their SEALTrek nationwide.
For more information visit http://www.sealtrainingacademy.com or phone (757) 232-6229.