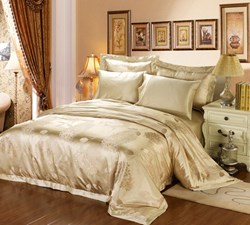 We promise that we only use the Grade-A mulberry silk to make into our silk products.
Farmingdale, NY (PRWEB) November 20, 2013
Lilysilk is a reliable store of silk bedding. Recently, the company has announced a big promotion, up to 20% off, on its high quality silk bed sheets, including duvet covers, fitted sheets, flat sheets and pillowcases, to extend gratitude to new and returning customers. This promotion is valid until Thanksgiving Day.
It is reported that 22mm silk bed sheets are the best-selling products in the current market. More and more people would like to buy silk sheets for themselves and their families. Lilysilk.com is a reliable and professional manufacturer and retailer of silk bedding for many years, which are popular among housewives and gentlemen who are seeking for high-taste life. 22 momme silk sheets from Lilysilk online bedding store are only handcrafted from 100% natural silk, featuring high quality, delicate cuts, and gorgeous looks.
James, a gentleman from Los Angeles, wrote to Mike Lee, CEO of the company, "Your 22mm sheets are really fantastic. My wife and I love them very much. I will buy another silk sheet set soon for my daughter."
"We promise that we only use the Grade-A mulberry silk to make into our silk products. Besides, we also offer the best prices and excellent service. We allow customers to return products within 45 days with no hassle only if they are not washed or used and in the original package," says, Mike Lee.
In addition, Lilysilk offers free delivery worldwide. The packages will reach customers within 3-5 business days.
About Lilysilk
Lilysilk.com is a well-known manufacturer and retailer of silk beddings. With years' experience, Lilysilk offers a wide range of silk sheets, silk comforters, pillows, and other related accessories, available with up to 16 colors and all sizes from twin to cal.king. Fabulous quality, competitive prices, delicate craftsmanship, are reasons to choose Lilysilk.com.
More information about thanksgiving promotion can be accessed at: http://www.lilysilk.com.