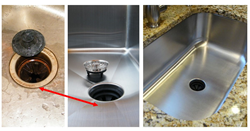 "I believe that we are charged with Creating Good in all things," Dan said. "From our customers to our products, to the world in which we live. This is my passion. I want everything I do to be categorized as "creating good."
Cincinnati, OH (PRWEB) April 18, 2016
When inventor and entrepreneur Dan Sullivan first decided that a seamless kitchen sink was a great idea, he had no clue that in a couple of years his seamless sink would win National Kitchen and Bath Show Best New Product in 2009. He was up against all the "big boys" in the industry; those who have been around for decades. He had to wonder, "Why didn't anyone think of this before?"
Sullivan has seen the sink business be dominated by traditional sink companies, but with the influx of antibiotic-resistant bacteria and germs, Sullivan's sinks are more than just a "good idea" they are a necessity in keeping the kitchen free of e-coli, and other human-invading germs. According to Dr. Germ from Food and Wine Magazine, "There's more E. coli in a kitchen sink than in a toilet after you flush it. The sink is a great place for E. coli to live and grow since it's wet and moist. Bacteria feed on the food that people put down the drain and what's left on dishes in the sink. That's probably why dogs drink out of the toilet—because there's less E. coli in it," says Dr. Germ. All these germs are the reason for the expansion.
"I want to make sure we have a sink for every home, every size and type that is needed," Sullivan said. The expansion includes a total of 18 kitchen sink types, multiple sizes and even sinks for the laundry room and bar area. Create Good Sinks eliminates the seam around the drain, a hot-spot of gross bacteria. With no place to live and thrive, the germs are pushed down the drain and out of reach of dishes, dish cloths and sponges. Not to say that these things should be neglected when it comes to cleaning, but one less on the list is a good thing.
Dan Sullivan is an inventor by trade, holding the patents to more than a dozen items. His philosophy of "Create Good" is a theme that is carried through his whole company, not just his products. "I believe that we are charged with Creating Good in all things," Dan said. "From our customers to our products, to the world in which we live. This is my passion. I want everything I do to be categorized as "creating good." That is what I live by, and my company strives to do."
Another thing that Sullivan has done is to sell direct to the consumer, not marking up the products with a middle man. The fewer entities involved, the less cost to the end user. He ships free, nationwide, from his Cincinnati warehouse. And there is no expensive showroom to highlight his products. His web site and Facebook page are the predominate ways of getting the word out. Linked under Create Good Sinks and Seamless Sinks, his brand is on the first or second page of most search engines.
The good press, good reviews and great product is what fortifies his brand. With a lifetime warranty against manufacturer's defects, Sullivan stands by his products. In 2015 he won the Best of Houzz Award for Service, an honor he doesn't take lightly. He details the products with You Tube videos and a personal interview on his web site so even a non-sink saavy customer will appreciate the quality and workmanship that goes into each and every Seamless Sink.
Create Good Sinks caters to the customer and when you call to place an order you most likely will speak to the owner. Dan Sullivan is truly an American entrepreneur and inventor of products that make America strong. Visit his web site at http://www.creategoodsinks.com.
For more information, or for a personal interview, contact:
Dan Sullivan
Create Good Sinks, LLC
513-327-8078