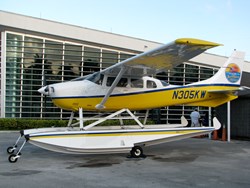 Celebrating our continuing seaplane flights from Miami to Key West....
Miami, Florida (PRWEB) October 27, 2013
Key West Seaplanes®, the region's premier seaplane charter company announces the start of another new season of seaplane charter service to/from Key West- Miami. Key West Seaplanes® Miami to Key West flight service originated in 2010 and continues strong through the current 2013-2014 season.
Key West Seaplanes® announces versatile options for their seaplane flights from Miami to Key West that include starting points such as the private side of Miami International (MIA), the smaller airports such Tamiami (TMB) and Opa Locka (OPF) as well as seaplane service from Watson Island Seaplane Base near Miami's famous South Beach. Key West Seaplanes® pilot Julie Ann Floyd shares "Our seaplane flights from Miami to Key West are really popular. Many people dread the long drive that can sometimes take several hours, but in one of our seaplanes the flight is just about an hour so we get you to Paradise much faster and without all of that stress associated with traffic". She adds, "What makes our seaplane service so convenient is that we originate your flight from the starting point most convenient for you. So, if you are flying a large commercial carrier into Miami International, you can connect with us there. If you live near a smaller airport such as Tamiami or Opa Locka, that's no problem. For those wanting to visit South Beach and then make a seaplane flight to Key West, we recommend meeting us at Watson Island Seaplane Base or Miami International's private/quiet side. Of course, we are happy to meet you at Fisher Island or your own private dock if you are lucky enough to live on the water".
The versatility of the company's seaplanes stems from Key West Seaplanes® having seaplanes equipped with amphibious floats, thus enabling their seaplanes to land on water as well as on land. Floyd clarifies, "Many people think of a seaplane being only able to land on water. That is the case with many seaplanes...however, our seaplanes have amphibious floats that have gear (wheels) that are hidden up under the floats when landing on water and then are placed in the down position when our seaplanes land on a runway or grass strip". The company stresses that one of their main goals is to save their passengers time and aggravation by originating flights from whatever pick-up point is most convenient for their passenger. Floyd adds, "Our seaplanes come to you, you don't have to come to us!".
Key West Seaplanes® offers low-level aerial sightseeing en route on all of it's Miami to Key West seaplane flights. The seaplane company's website describes passengers often having magnificent opportunities to see wildlife in the water such as dolphin, rays, turtles and even manatee in season. Floyd shares, "Many people really enjoy seeing South Beach from the air and then continuing along to Cape Florida to see the lighthouse there. We then climb up higher during flight where the air is nice and cool... then offer more options for aerial sightseeing as we get in closer toward Key West". Key West Seaplanes® pilot Nikali Pontecorvo says, "But, if you're in a hurry to get to Key West and just want to make a bee-line for your destination we can do that, too. The flight is all about what my passengers want. If we see a pod of dolphin and you want to get a closer look, then we circle so you can take photos. The itinerary is yours, not ours".
Key West Seaplanes® is proud to announce that the quality of their flights is further accentuated by the service passengers receive at their originating points. Floyd states, "When we utilize Miami International as your originating point our passengers enjoy a phenomenal, recently completely renovated FBO at Landmark Aviation. The building was completely redone just about a year ago and affords our passengers the luxury of a comfortable and quiet, fully air-conditioned atmosphere appointed with posh sofas, coffee bars, clean restrooms, television as well as private areas to make telephone calls or even to hold a meeting. The Landmark staff are incredible and are the perfect complement to our seaplane service to Key West and beyond".
Other starting points afford similar experiences for passengers on Key West Seaplanes® flights. Floyd adds, "For those choosing to originate their travel at Watson Island Seaplane Base to Key West we make all of the arrangements well in advance of your flight to assure your comfort. The seaplane base is air-conditioned, cool and comfortable with clean restrooms and friendly staff. It also has interesting seaplane memorabilia to explore. Many of our passengers also enjoy watching the cruise boats at the adjacent Port of Miami. Watson Island Seaplane Base/Miami Seaplane Base is really a wonderfully unique place".
Key West Seaplanes® also offers seaplanes from Miami to Little Palm Island for lunch, brunch, breakfast, dinner and overnight/extended stays. The company services all The State of Florida, all The Florida Keys as well as all The Bahamas and Caribbean. All flights come and go as passengers schedule them. Other common seaplane flights are from Ft. Lauderdale to Key West, Ft Lauderdale to Little Palm by seaplane, Naples to Key West as well as West Palm Beach seaplane flights to Little Palm and Key West. Floyd adds, "Everyday for Key West Seaplanes® is a different day with new and different flights. There are no two days alike. We fly to so many destinations...you just tell us what you want to do and it happens".
Key West Seaplanes® offers island seaplane flights of Key West sights that include shipwrecks, Sand Key Lighthouse and uninhabited islands around Key West. Scenic flights by seaplane also include sunset flights, flights to see The Seven Mile Bridge and Lighthouse flights during which passengers can see up to ten lighthouses between Miami and The Dry Tortugas via seaplane.
Key West Seaplanes® was formed in 2009. The company is based in Key West and offers luxury seaplane flights for all Florida, The Bahamas and Caribbean. Key West Seaplanes® has been featured in many Internationally-distributed publications such as Departures Magazine (American Express' magazine published expressly for it's Platinum Card members), FLYING Magazine with a story about Key West Seaplanes® Little Palm Island Service, Florida Travel and Life (numerous times this past year) and has been featured on The Travel Channel's Trip Flip show featuring Key West Seaplanes® flights between Miami and Islamorada.