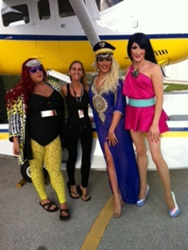 Key West Seaplanes® Welcomes RuPaul Stars for a visit....
Key West, FL (PRWEB) January 26, 2014
Key West Seaplanes® recently joined RuPaul Drag Race Stars to film a DWV group video in Key West, Florida. The famous celebrities, William Belli, Vicky Vox and Detox filmed recently with Key West Seaplanes® while visiting Key West, Florida.
Key West Seaplanes® is based in Key West, Florida and is the region's premier seaplane charter company. Also proud members of the Key West Business Guild, Key West Seaplanes® was contacted by producers representing the members of the celebrity pop group DWV to take part in a video while the group visited Key West. Others involved included the staff and manager of the acclaimed Key West guest house, The Island House.
"While the exact nature and future use of the video remains a secret, we are excited to have been a part of the group's visit to Key West!" announces Julie Ann Floyd, pilot with Key West Seaplanes®. She further adds, "Everyone involved was just awesome and we had a great time doing the filming....We are looking forward to seeing the final product with the beautiful stars and one of our seaplanes." Key West Seaplanes® is based at The Key West International Airport where the filming took place. The luxury seaplane charter company often flies celebrities and others looking for a private and comfortable way to arrive into Key West.
Key West Seaplanes® to Little Palm Island is another of the seaplane charter company's most popular routes. Guests often start on the mainland and head direct from airports such as Miami International to Little Palm Island, Ft. Lauderdale International to Little Palm Island as well as Naples to Little Palm Island via private seaplane.
The legendary DWV group members enjoyed time with one of the company's custom, luxury seaplanes while in Key West. Pilot Floyd adds, "All of our seaplanes are amphibious so they can land on water as well as on land. This makes a flight such as Miami to Key West via seaplane as easy as possible. Our flights come to you so if you live closest to Miami International or one of the smaller airports, we start there to pick you up. But if you live on the water or close to a seaplane base then we start there. Some options included Watson Island Seaplane Base to Key West and even Fisher Island via seaplane to Key West."
Key West Seaplanes® routinely appears in publications such as Florida Travel and Life, FLYING Magazine, Water Flying Magazine and Departures Magazine which is the exclusive publication for American Express' Platinum members. Key West Seaplanes® also recently made the national news waves after they rescued a pilot who made a forced water landing in an airplane that was equipped only with wheels when his engine failed. This event led to the company receiving accolades from the FAA, Coast Guard and Air Traffic Control. Key West Seaplanes to Islamorada was also featured on the Travel Channels Key West/Seaplane episode this past year. The company looks forward to this new year beginning with next month during which they will fly celebrity chef Rocco DiSpirito to Little Palm Island via seaplane for a dinner event.