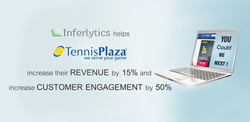 "With Inferlytics, we saw a 15% lift in our online search revenue and more than a 50% drop in the search results bounce rate. Our customers are finding the products they want and our sales have increased."
Sunnyvale, CA (PRWEB) September 22, 2015
The multichannel sports retailer Tennis Plaza reported impressive improvements from the implementation of Inferlytics personalized site search and product discovery platform. Inferlytics' groundbreaking technology facilitates successful navigation of the extensive inventory offered by Tennis Plaza, enabling customers to find their desired products quickly and efficiently. The results are increased sales and reduction in abandoned carts.
Tennis Plaza found that their current website search platform that was developed in-house was not at all meeting their needs and was generating too many errors. Customers were not able to find the products easily and refining the search over and over did not lead to desired product listings.
Juan Aristizabal, IT Director for Tennis Plaza, knows the importance of site-search for a specialized, multichannel business like his. "Our website is not only a channel to sell products online but it is also the primary source for driving more traffic to our stores," he said. His goal was to boost the number of transactions, conversion rate, and revenue from search, as well as to decrease search bounce rate. Towards this end, Mr. Aristizabal sought a solution that would improve product search as well as provide more intuitive site navigation.
Mr. Aristizabal searched for an organization that cooperated more like a partner, and had the flexibility to create custom modifications that would allow them to offer better service to their customers. After evaluating several leading companies, Tennis Plaza chose Inferlytics not only because of their superior site-search technology but also because of the intelligent and responsive customer support service. "With Inferlytics, we saw a 15% lift in our online search revenue and more than a 50% drop in the search results bounce rate. Our customers are finding the products they want and our sales have increased," Mr. Aristizabal stated.
Inferlytics innovative filters and navigation features provide consumers with an optimal and accurate search experience. Its intelligent e-commerce search engine makes intuitive recommendations, connecting buyers with the right products by leveraging product reviews. Inferlytics also enhances the customer experience by bringing improvements to online product discovery and by making online products-based social content more effective. Buyer confidence is increased which results in improved shopping cart conversions.
Amit Jnagal, CEO, Inferlytics congratulated Tennis Plaza on their success, saying, "The search problem for specialty stores like Tennis Plaza is fairly unique. Unlike a department store that sells everything, specialty stores score big on a particular product category because of their knowledge and experience. The Tennis Plaza specialists know which racquets are good for power versus control or what is the power level of different racquets. The search and browse technology needed to capitalize on that and make customers experience that they are dealing with a specialty store. We are happy to see Tennis Plaza reap rich rewards by making the upgrade to their search technology."
About Inferlytics –http://www.inferlytics.com
Inferlytics is a first of its kind integrated eCommerce search and browse experience engine which combines power of natural language processing and domain specific knowledge bases to offer a differentiated experience for retail customers. Consumers enjoy a personalized experience via domain specific search engines that understand the key attributes of products, from catalog data to user reviews and customer behavioral patterns. Natural language algorithms combine with sentiment analysis to deliver highly relevant search results. Inferlytics search engines have the unique ability to learn from customer behavior so every customer interaction improves their experience.
About Tennis Plaza –http://www.tennisplaza.com
Tennis Plaza is a full service Tennis Specialty Retailer. Over the last 25 years, Tennis Plaza has developed into a multi-channel retailer that offers world-class selection of brand name tennis equipment (like rackets, balls, & grips) and apparel (shoes, shirts, shorts, & skirts) for players of all ages and abilities. Tennis Plaza stands as one of the major tennis retailers in the United States, with 6 store locations in Florida (South Miami - Doral - Aventura / North Miami - Orlando - Tampa - Lake Buenavista). With a world-class e-commerce website http://www.tennisplaza.com, they meet the demanding needs of tennis lovers worldwide. Tennis Plaza's premier merchandise brands include: Wilson, Babolat, Head, Prince, Nike, Adidas, Asics, Lacoste, Dunlop and many more.