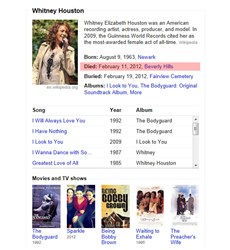 There has been some credible reports out there that deem the feature to be unreliable, but from what I've seen, I've got to disagree, again, based on what I have seen
WEST BABYLON, NY (PRWEB) October 09, 2013
Searchen Networks Inc., an Internet advertising agency based in New York, has announced a statement made based on the Google's Knowledge Graph; a system which uses structured data to conveniently show results for what searchers are actually referring to when they enter a query.
"It seems that 99% of the time, if not 100%, Google's Knowledge Graph results seem to be accurate. I don't remember ever seeing one that wasn't accurate outside of it not being updated fast enough when someone famous or otherwise popular passes," said John Colascione, President of Searchen Networks.
Colascione was referring to an example he pointed out in a 2012 detailed blog post titled: "Knowledge Graph Misses Company Philosophy: Fast Better Than Slow."
"There has been some credible reports out there that deem the feature to be unreliable, but from what I've seen, I've got to disagree, again, based on what I have seen."
About SEARCHEN NETWORKS®
Searchen Networks ® is a pioneer in search engine marketing. The SEARCHEN® mission is, and has always been, to provide services poised at increasing a company's overall visibility on the Internet. Providing customers around the world with Internet domain names (web addresses), web hosting, SSL certificates and more, Searchen Networks ® services its own network of media properties and provides expert Internet consulting to a select group of clients throughout the United States.
For more information please visit: https://www.searchen.com.