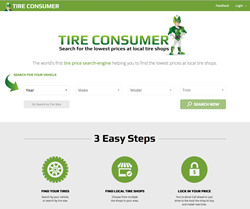 TireConsumer.com makes it easy to search for tires, determine the best price, lock in the price and then complete the purchase at a local shop.
Orlando, Florida (PRWEB) April 27, 2015
Tire Consumer LLC recently launched TireConsumer.com, the first "tire price search engine" that consumers can use to easily compare prices at local tire shops. The Orlando-based company has already developed an expansion strategy, with plans to include major cities in Texas by mid-2015 and then a national rollout.
TireConsumer.com is filling a major void in the tire market. Rather than sell tires - like most traditional tire-related sites - it allows consumers to search for the best prices, check availability and then visit a local tire shop to complete their purchase. TireConsumer.com enhances the research and purchasing experience, as well as minimizes frustration for consumers. "This is the biggest thing to happen to tires since they became round," said Founder and CEO Tim Shaffer. "This will dramatically change the way Americans buy tires."
Essentially, TireConsumer.com is a comparison website - similar to Kayak.com or Expedia - that lists leading tire brands and local tire shop prices in one convenient place. It makes it easy for vehicle owners to search for tires online, compare prices and then make their purchase locally - saving them valuable time and shipping costs. TireConsumer.com also saves time for consumers because they only need to visit one site to conduct their research, instead of scouring multiple sites online. They can also avoid wasting a trip to a tire store only to discover their tires aren't available.
Each year roughly 47 million consumers purchase new tires in the U.S., which equates to nearly $30 billion in industry revenue. Approximately 38 million of these buyers begin their research on the internet, according to the GE Capital Banks Major Purchase Shopper Study. However, with TireConsumer.com, shoppers now have an unbiased resource to facilitate their research. Here's how it works: visitors simply enter their car type. (They don't need to know their tire specifications.) From there, they can review recommendations, choose a tire and click through to the local retailer of their choice to lock in a price and schedule an appointment.
Consumers can use TireConsumer.com free of charge, while local tire shops pay a low fee for each lead they receive. Tire Consumer's business model is designed to have a positive impact on the economy because it encourages consumers to patronize a retailer in their area. This, in turn, can help to increase local sales and employment, as well as stimulate the local tire industry.
With the sale of tires in the car and light truck segment being a multi-billion-dollar business, TireConsumer.com is destined to radically alter the industry, according to Chief Marketing Officer Byron Walker. He predicts that TireConsumer.com will have a significant and long-lasting impact on how consumers engage in the process of purchasing tires. The potential is huge, as more than 15 million "tire" searches are conducted on Google each month. With TireConsumer.com, users have access to a robust website that centralizes information on major tire shops, aggregates prices and simplifies the buying process for individuals who want to determine the best local retailer to meet their needs.
For more information about Tire Consumer LLC, please email mediacontact(at)TireConsumer(dot)com,
call 636-388-8473 (TIRE), or visit http://www.TireConsumer.com.
About Tim Shaffer and TireConsumer.com
Launched in March 2015, TireConsumer.com is a comparison website created by Tim Shaffer to fill an important niche in the marketplace. The first such tire aggregator of its kind, TireConsumer.com makes it easy for consumers to research products and prices at tire retailers online and then finalize their purchase offline at a local shop. TireConsumer.com is the "brain child" of Shaffer, who has more than 25 years of experience in the tire retail and automotive markets. His resume of experience includes working at Tire Kingdom, National Tire & Auto, Just Brakes and Tires Plus. Starting as an entry-level, oil-and-lube technician, Shaffer worked his way up the industry ladder and is highly respected in his field. He has served in senior positions as an executive director, as well as in sales, operations, training and private consulting. He has trained thousands of regional sales professionals and has deep insight into what consumers want in the sales process. Based in Orlando, Fla., Shaffer aims to leverage his industry knowledge, sales expertise and personal contacts to ensure TireConsumer.com successfully revolutionizes the way consumers research and purchase tires at local retailers.
###