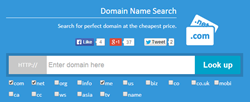 Register a domain at the lowest price!
San Francisco, CA (PRWEB) March 20, 2014
It is exciting news for Domain buyers that HostUcan.net official released its domain search tool which enables users to research and buy domain names at the lowest price available. This tool could compare the registration fee from registrars and also includes domain marketplace data into its search result by partnering with world's largest domain marketplace Sedo.
Hostucan.net, an industry leading webmaster tools and service searching platform, is devoted to helping people to find the best tools and service to create web sites.
The Domain Name Search tool (http://www.hostucan.net/search-domain) committed to helping users quickly find out the cheapest domain name by including the registration fees from almost all the popular registrars, such as Namecheap.com, GoDaddy.com, and Networksolution.com.
Hostucan.net is also partners of the major domain marketplace, such as GoDaddy and Sedo. If the domain name is taken, besides showing whois information, the tool would also check if the existing owner is selling the domain in those marketplaces now and the price.
All you need is to input a domain name and choose some TLDs, and then the Checker immediately gives outputs the results in the categories of "Available Domains" and "Registered Domains". Under the Available Domains are prices of different registrars. So the checker can not only tell users whether it has been registered, but also list the prices automatically from low to high. The whole process is really straightforward.
This Domain Name Search tool from HostUcan.net also includes a built-in WHOIS system (http://www.hostucan.net/whois). This means that users can check information about the registrant of a registered domain and its register, the registration date, when it expires, and even who is hosting it.
To know more about the tool, please check out at http://www.hostucan.net/search-domain.