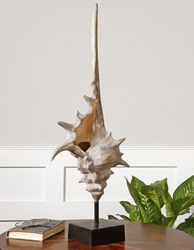 Seashells immediately evoke the ocean, so shells in any size, shape, or color - whether they're real or not - help add a relaxed, beachy quality to a room's decor.
(PRWEB) June 11, 2014
HomeThangs.com – the Online Home Improvement Store has made their goal to deliver the right product to the consumer. With that in mind, shopping and home design tips, as well as special product selections are being introduced.
This time of year, many coastal dwellers – from Cape Cod to Malibu – bust out the beach decor to welcome the sunny season; everything from oars and life preservers to surf boards and driftwood. But nothing says summer like sand and sea shells, even for those that don't happen to live anywhere near a beach. HomeThangs.com has introduced a guide to using these slightly more subtle beach-inspired elements for a fantastic summer decor.
One of the easiest ways to bring a little piece of the seashore into a room's decor is to simply put a few seashells on display. This is easier, of course, for those who have ready access to beaches, but it isn't hard to purchase real or replica shells in various sizes, shapes, and colors, too. Shells sold as decorative figurines are often mounted on stands or displays, or are even framed to hang on the wall, and can easily be worked in among existing decor items for a subtle summery touch.
A big collection of small seashells are also great for display, particularly when collected in a decorative container. A little sand or sea glass will help flesh out a smaller collection while adding to the beachy look and feel, but make sure to place the shells near the edges of the container where they'll be most visible. Any glass jars will work, but ones with decorative lids – or, better yet, ones made from antique blue-green glass – make for a more attractive display.
Big scallop shells or clam shells make fantastic tabletop accents all on their own. They have a beautiful, distinctive shape, and depending on the type of shell, can come in a wide variety of colors. Most of these type of shells will sit fairly flat and stable when placed curved side down a table top, and their scooped shape means they double nicely as decorative bowls or trays that can hold a set of keys, some nice marbles or sea glass, or even sand or other shells.
Because seashells are such a hot summer decor item, it's actually not all that difficult to find other items – like table lamps – that incorporate seashells into their design. Beach-themed lamps generally come in one of two types. The first are those with bases made in part or entirely out of seashells. That can either mean lamps that feature one large shell skewered in the middle of the post, or a lamp with a more traditional base covered in smaller shells or a small, pebble-like shell texture.
The second type of table lamps that feature shells have bases that are made of large, jar-like glass containers filled to the brim with big, beautiful shells. These lamps are designed to look like more like beachy souvenirs than museum-like displays, and as such much be a little less elegant, but have a much more casual, relaxed feel – which fits perfectly with a laid back summer style.
Using beach-themed wall art is a slightly more subtle way to add a summery touch to a room. Because most beach themes rely on objects to establish their coastal vibe, a flat print or painting – particularly one in muted colors – has a much more subdued sense of style. Sandy sepia toned scientific-style seashell drawings have just the right level of detail to hint at the ocean, while watercolor paintings have a pleasantly washed out, sun-bleached appearance reminiscent of the seashore.
For more ideas for a fresh summer decor, check out the full article here.
HomeThangs.com is not only a home improvement superstore, it also provides expert design tips and a comprehensive shopping guide, taking the ideas from professional interior designers, and offering tips to the consumers on how to pick the products to best suit their needs.