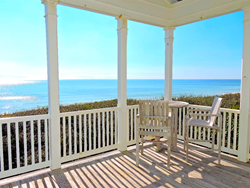 Seaside, FL (PRWEB) September 21, 2017
Homeowner's Collection (https://homeownerscollection.com) one of Seaside, Florida's top vacation rental companies, has announced a special Wine Weekend Giveaway. The company is holding an online raffle offering a 3-night stay at a Seaside, Florida vacation rental during November's Seeing Red Wine Festival.
The giveaway includes two tickets to the wine festival's grand tasting and additional offerings from Seaside, FL merchants.
Fodor's Travel has recognized the Seeing Red Wine Festival as one of the "Top 10 Can't Missing Fall Wine Festivals." This year's festival will be held from November 9-12, with the festival's Grand Tasting held on Saturday November 11, 2017.
The Homeowner's Collection giveaway includes a three-night stay at Reverie, one of more than 60 vacation rental properties managed by the Homeowner's Collection. The 2-bedroom condo is located on Quincy Circle in the very heart of Seaside, Florida, site of the Seeing Red festival and just steps from the beach. A 3-night stay at the rental property during November is normally valued at over $2,200.
To enter the Homeowner's Collection Wine Weekend Giveaway, visit https://homeownerscollection.com/Promo-Detail/post_detail/winegiveaway.
Entries to the giveaway must be received by September 30th. The winners will be selected randomly within five business days.
The online raffle is open to anyone aged 25 or older. Participants can enter per day, and bonus entries only count once.
About Homeowner's Collection
Homeowner's Collection is an exclusive collection of premier vacation rentals operated by the homeowners of Seaside, Florida. The company manages more than 60 vacation rentals directly in Seaside, one of America's most celebrated beachfront communities.
For more information, call (855) 411-1557 or visit the collective's web site at https://homeownerscollection.com.