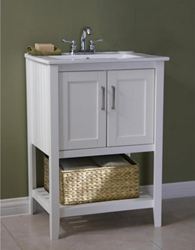 Natural wood is an important component of a seaside style, so while most beachy bathroom vanities are solid white, weathered and unfinished wood vanities are also popular for their earthier look and feel.
(PRWEB) June 26, 2014
HomeThangs.com – the Online Home Improvement Store has made their goal to deliver the right product to the consumer. With that in mind, shopping and home design tips, as well as special product selections are being introduced.
Luxury bathrooms are all about the escape; they're designed to be a place to relax and unwind, to get away from it all. Often that just means luxury features, like steamy showers and deep soaking tubs, but sometimes it can mean using a themed design to create a slightly more literal escape. HomeThangs.com has introduced a guide to beach inspired bathroom designs, which are perfect for transforming a small master bathroom into a sun-soaked seaside cottage.
Cottage design is largely defined by the use of white and natural wood, and beach style bathrooms are no exception. Most beachy bathroom vanities are white, which helps create a bright, inviting backdrop for the style. Shiplap or plank walls or textured wood floors might be used to give the bathroom a wind-swept, sand-and-salt worn sense of weathering, but usually the vanities themselves will be solid white with a very simple design to keep the space feeling clean and fresh.
That said, while beachy bathroom vanities are usually pretty simple, they don't have to be boring or plain. In fact, adding a little texture is a great way to emphasize a coastal style. Beadboard wainscoting is an easy-to-find accent on this type of vanity, and while it's admittedly a little more cottage than seaside, the simple slatted pattern has a very east-coast, Cape Cod cottage style that's perfect for establishing this look.
Similarly, bathroom vanities with shuttered doors have a fantastic seaside style to them. These have horizontal rather than vertical slats and are reminiscent of the storm shutters found on coastal cottages. These shutters usually aren't functional, but they're perfect for evoking a very particular sense of ocean side style. Shuttered bathroom vanities are a bit rarer, too, meaning the style is just that little extra bit unusual and distinctive, which will enhance the feeling of a beachy getaway.
The shape of the vanity itself matters, too. While traditional box-style cabinets certainly work with this look, open shelf bathroom vanities have a much more relaxed, beachy look and feel. Because they have a lot of built in white space, they make the bathroom feel open, airy, and bright, while the simple shelf at the bottom is perfect for displaying beach-related items (like natural sea sponges, seashells, coiled rope baskets, old glass bottles, and so on) to help enhance the beach theme.
Pedestal sinks are another iconic cottage bathroom feature that works beautifully in a beach style bathroom. They have the same simple-yet-classic appearance of beadboarded bathroom vanities but a slightly smaller footprint and even more traditional look and feel. In a conventional cottage bathroom a pedestal sink might be paired with white subway and hex tile, but for a more relaxed beach style opt instead for hand scraped wood floors paired with simple whitewashed plank walls.
Unlike more traditional cottage style bathrooms, though, beach inspired bathrooms often feature lots of natural, weathered, or reclaimed wood. There are a couple reasons for this; a seaside design is a bit closer to nature, and many common accents (like ship boards, oars, and driftwood) have a natural, weathered wood appearance. What that means for recreating the look is that natural wood vanities are fair game. While most beachy bathroom vanities are white, wood vanities work quite well here, too, particularly ones that have a little aging or texture and ones that have that iconic open shelf design.
For more ideas on how to create a beachy bathroom getaway, check out the full article here.
HomeThangs.com is not only a home improvement superstore, it also provides expert design tips and a comprehensive shopping guide, taking the ideas from professional interior designers, and offering tips to the consumers on how to pick the products to best suit their needs.