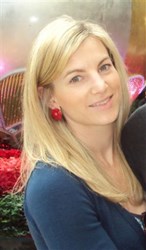 She has a very loyal customer base that continues to grow through client referrals.
Kitty Hawk, NC (PRWEB) October 08, 2013
Leading Outer Banks real estate firm Seaside Realty is pleased to announce that Heather Sakers is the company's real estate "Agent of the Month" for September. Heather had gross sales exceeding $2 million dollars for the month, earning the company's top performer award.
Since joining Seaside Realty in May of 2008, Heather has consistently been one of the firm's top performing real estate agents. In 2012, Heather was named "Agent of the Year" with over $13.25 million in closed transactions.
"Heather has built a steady business in the five years she has been with our company," said Pamela Smith, Vice President of Sales and Relocation at Coldwell Banker Seaside Realty. "She has a very loyal customer base that continues to grow through client referrals."
In 2010, Heather was a semi-finalist with REALTOR® Magazine's "30 under 30," and she was a member of the Coldwell Banker International Sterling Society in 2010 and member of the Coldwell Banker Diamond Society in 2011. "Heather works with both buyers and sellers and offers all of her clients a high level of customer service," said Smith.
Heather lives with her husband and two sons in Nags Head and is very active in her community and church. She has been an Outer Banks local for over two decades and is ready to show you everything that the area has to offer.
If you are interested in buying or selling a home on the Outer Banks, you can reach Heather directly at 252.599.6814 or via email at heather(at)seasiderealty(dot)com.
About Coldwell Banker Seaside Realty
Founded in Kitty Hawk, NC in 1990, Coldwell Banker Seaside Realty is a leading Outer Banks real estate company. With more 35 licensed agents, Coldwell Banker Seaside Realty provides both residential and commercial buying and selling assistance in Northeastern North Carolina.
For information about Outer Banks real estate, visit http://www.cbseaside.com or call 252.261.3800 to speak with one of their experienced real estate professionals.