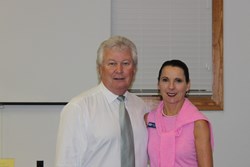 Here at Coldwell Banker Seaside Realty, our top priority is always customer service
Kitty Hawk, NC (PRWEB) October 24, 2013
Leading Outer Banks real estate firm Coldwell Banker Seaside Realty hosted national speaker Rick DeLuca to the Outer Banks. DeLuca gave a three hour seminar at an office in Nags Head, NC on October 11 to an audience of several dozen local real estate agents.
Recognized as one of the country's most popular speakers, Rick DeLuca has previously been awarded Nevada's Salesman of the Year and Realtor of the Year. DeLuca sold 42 homes in his first year in the real estate business and averaged more than 200 sales each year over his 15 year career.
"Here at Seaside Realty, our top priority is always customer service," said Pamela Smith, Vice President of Sales and Relocation at Coldwell Banker Seaside Realty. "Rick's presentation was a great refresher course on basic customer service skills for real estate professionals."
During the three hour seminar, DeLuca discussed his sure-fire methods of building more listing inventory along with a three-month plan to launch a successful career in real estate.
DeLuca shared his practical and systematic approach to selling that enabled him to become one of the top agents in the country during his 15 year career. "We received terrific feedback from our agents after the seminar," said Smith.
About Coldwell Banker Seaside Realty
Founded in Kitty Hawk, NC in 1990, Coldwell Banker Seaside Realty is a leading Outer Banks real estate company. With more 35 licensed agents, Coldwell Banker Seaside Realty provides both residential and commercial buying and selling assistance in Northeastern North Carolina.
For information about Outer Banks real estate, visit http://www.cbseaside.com or call 252.261.3800 to speak with one of their highly experienced real estate professionals.