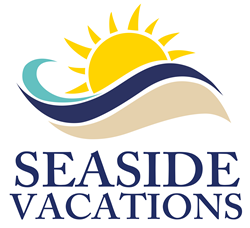 We searched for a logo that captured the essence of our company and our commitment to our homeowners and guests.
Kitty Hawk, NC (PRWEB) May 27, 2014
Seaside Vacations, after a fourth quarter acquisition of Kitty Dunes Rentals, has been rebranded in the face of recent changes within its organization including the recent acquisition, relocation of its Kitty Hawk office, expanding its footprint to a Corolla office, and increase in its vacation rental home offering.
What is a company's brand? A company's brand by definition is how the customer experience is represented through images and ideas such as a company name, logo, or slogan. Seaside Vacations has identified its brand through the years with similar images including a dune, the sun, sea oats and consistent shades of blue.
After more than 20 years of maintaining many of the same brand elements, Seaside Vacations felt the need to freshen up its brand and logo, and have done just that. Keeping many of the same elements but adding depth to bring clarity, Seaside Vacations has incorporated a more defined sun, an Outer Banks sea dune and wave elements to its new logo.
With an ideal website destination of O uterBanksVacations.com, Seaside Vacations continues its path to ensuring a great experience for homeowners and travelers. Seaside Vacations recently completed an acquisition of a local company, swiftly growing its position in the Outer Banks vacation rental market. With properties from Corolla to South Nags Head with many amenities including oceanfront, pools, hot tubs and community privileges, Seaside Vacations offers a unique experience for their guests.
Seaside Vacations' new logo brings a final element of change to its company. "We searched for a logo that captured the essence of our company and our commitment to our homeowners and guests. We want to continue to strive to be the company that injects joy and happiness into our guest's vacation, and our new logo is the first step of setting that expectation," said Gordon Jones, President and CEO.
Seaside Vacations offers relaxing accommodations on the Outer Banks, focusing on family-friendly vacation rentals. Set on a 200 mile stretch of narrow barrier islands off the coast of North Carolina, the Outer Banks is a popular vacation destination with its pristine beaches and acres of beautifully landscaped beachfront and sound front properties. The vacation homes in Seaside Vacations portfolio blend nature with an authentic island experience to deliver southern hospitality to guests of all ages.
The new branding initiative has been formally launched at the beginning of the second quarter with a refreshed logo appearing across many mediums. The first step was to redesign property signs for its wide array of vacation homes across the Outer Banks. In addition, primary building signage located at the Kitty Hawk and Corolla offices have been updated and the final phase of the branding initiative has become visible through changes online, in print, and across its social media channels.
About Seaside Vacations:
Founded in 1990, Seaside Vacations is a family-owned and operated full-service property management and vacation rental home provider located on North Carolina's Outer Banks. Offering a wide variety of Outer Banks vacation home rentals from cozy condominiums to large private homes, choose from nearly 450 Outer Banks vacation rentals.
To learn more about Seaside Vacations, please call 866.884.0267 to speak to a guest services representative, or visit http://www.OuterBanksVacations.com to view properties, book a vacation, or learn more about vacationing on the Outer Banks of North Carolina.