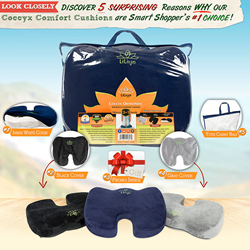 Each sciatica cushion comes with an inner hygienic white cotton cover and a high quality removable outer midnight blue velour cover, with a zipper
Los Angeles, CA (PRWEB) January 16, 2015
The founders of Liliyo, a company that specializes in "comfort lifestyle" products that can improve health and well-being, are pleased to announce that their coccyx cushion is now available on Amazon. From helping to relieve painful sciatica and pilonidal cysts to alleviating discomfort in the tailbone and lower back area, the donut pillow—which comes in an ultimate 3-in-1 bundle pack—is designed to relieve these common conditions.
In order to celebrate the launch of their new seat cushion, which a company spokesperson noted is the first bundle offer of its kind, Liliyo is currently offering an extremely generous discount of around 55 percent on the sciatica pillow.
As a company spokesperson noted, millions of people spend hours a day sitting at the computers working, playing games and visiting social media websites. When they are done with their work, they often retreat to the sofa where they watch movies and television shows. All of this sitting can cause these painful conditions to occur. In order to help people feel better while they are sitting in their office or desk chair, wheelchair or even while driving, the new car seat cushion from Liliyo can help reduce their pain and discomfort.
"Unlike a standard coccyx cushion memory foam cushion that gets squished and flattens out after a 5 or 10 minute use, our coccyx doughnut pillow is made from a premium grade high-density rebound foam, specially designed to maintain firmness while delivering long lasting sciatica relief," the company spokesperson said, adding that the competitively priced office chair cushion also features a double cover, as well as a free portable carrying tote and two additional outer velour covers.
"Each sciatica cushion comes with an inner hygienic white cotton cover and a high quality removable outer midnight blue velour cover, with a zipper."
Because the coccyx pillow is lightweight and easy to carry, people who suffer from lower back pain and other conditions can take it with them anywhere they go, including on airplanes and to sports arenas.
Anybody who would like to learn more about the Liliyo coccyx cushion is welcome to visit the Amazon page; there, they can read about the innovative tailbone pillow and its full, 180-day money back guarantee.
About Liliyo:
Liliyo is a "comfort lifestyle" company that specializes in creating comfort products that enhance and make everyday living easier and more pleasant. Liliyo is focused on wellness, health solutions, and pain relief products. The company pays very careful attention to product design, quality, and effectiveness, and easy product usability. The idea of the company has been in the making for 10 years, and it launched in 2014. One of Liliyo's first products is a super comfortable seat cushion designed to relieve sciatica pain, tailbone pain, and coccyx pain. For more information, please visit http://Go2Azon.com/g/B00K0ZI1YW-CC2