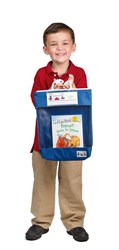 'The Read-n-Go book bag is great for my Kindergarten student's homework folders. I currently use plastic ones that don't last the whole year. I like to send games and activities for homework. '- Martina Kull
Naples, FL (PRWEB) August 13, 2013
One of the hottest selling items this Back-to-School Season is the new Read-n-Go book bag created by The Original Seat Sack Company. The new classroom or library book bag is ideal for classroom, library and home use.
Students will love the new colorful tote bag to carry assignments, books and papers from school to home. The Read-n-Go book bag is made of the same durable flame-resistant fabric as the original Seat Sack and features a clear viewing area in the front of the bag to easily view the contents of each bag. The snap-shut handle allows students to safely carry contents from home to school, library, grandmas or anywhere they enjoy reading. The loop at the top of the handle allows students to easily hang the bag on the side of a desk, inside of a locker or on a hook at home. Each bag also offers a clear vinyl pocket with a tag to write a student's name or to label the contents of the bag.
Teachers know that students who read daily at home to parents or siblings will be stronger readers by the end of the school year. With the new Read-n-Go book bag, teachers will feel confident in sending classroom reading materials home with students. In addition, reading logs and teacher instructions will remain organized and together with reading materials in the Read-n-Go book bag.
The Original Seat Sack Company, developed by Ann McAlear has been working with parents and teachers to provide organizers for the home, school and office since 1999. With the success of the patented Seat Sack chair pocket and other classroom organizers, the corporation has expanded its product line to feature a full line of high quality educational products, teacher resources and organizers through the O2Teach division. The passion of both companies is to provide, educational resources and organizers that assist educators and parents in engaging learners and meeting the needs of the individual learner. The company invites visitors to shop http://www.seatsack.com or to view the company's new digital catalogs.