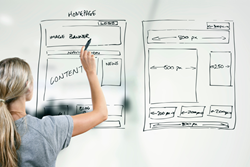 The importance of having great web design cannot be overstated-many people determine the reliability and capability of a website within seconds of viewing it.
Seattle, WA (PRWEB) December 18, 2014
As internet access and e-commerce popularity grows, Fannit wants to be sure entrepreneurs know the importance of great web design. In their latest article, Fannit writes to inform businessmen of 5 powerful web design trends that can improve the success rate of their websites.
The article states that "many people determine the reliability and capability of a business within seconds of viewing a page of their website."
One of the first trends businessmen should embrace is that of a responsive website. Fannit describes a responsive web layout as one that, "allows the content of your site to shift, expand, shrink, and move to fit the size of the screen the viewer is using."
With a shocking increase in a variety of screen sizes, businessmen need a website that is compatible with all of them in order to reach a greater number of viewers.
Another popular trend among web designers is to create a layout that contains a majority of a websites important information on a single page which users can scroll through. Fannit's article says that, "putting prominent information at the top of your home page and making the rest easy to access will open up another avenue through which potential customers can contact you."
For more information on how to improve your business' inbound marketing strategy and to learn more about the services offered by Fannit, visit their website at http://www.seattleinbound.com.
About Fannit
Fannit.com is a full service internet marketing agency that helps companies increase their online presence through engaging and well placed content. They service Seattle area and U.S. based companies for content development, SEO, PPC, E-mail, Press Release, and Website Funnel Optimization.
Fannit
2911 Hewitt Ave
Everett WA 98201
425-359-7989