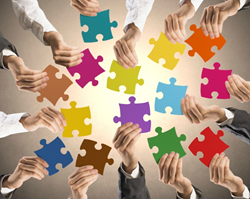 A marketing team that is functioning efficiently and and successfully is a huge asset to your business.
Seattle, WA (PRWEB) November 28, 2014
Creating a strong, effective marketing team can be a difficult task for business owners. In their most recent article, Fannit teaches readers about the various roles within a marketing team, and lists the advantages and disadvantages of creating a marketing team internally and externally.
The article says that "building your own specialized team of marketers can take time and effort. Filling the most necessary positions will likely help you develop your own marketing system."
One of the positions within a marketing team is that of a Marketing Coordinator. According to the article, "A marketing coordinator is responsible to manage different marketing plans while putting together the necessary pieces that would allow those plans to unfold."
Marketing teams can also use a graphic designer. Fannit warns that, "...poor presentation could result in a lose of potential sales. Your graphic designer should be familiar with graphics that move people toward a desired action, and should also be familiar with modern design trends."
There several ways marketing managers can choose to build their marketing teams. The article states that "Developing teams internally, externally, or making a combination of the two are all reliable options." Fannit then goes on to describe some of the advantages and disadvantages associated with each of these options.
For marketing managers that have chosen to use an external marketing team, Fannit concludes their article with a list of important questions managers should ask when searching for a team. "With the number of options available and the margin for personalization, you can put together the marketing team that meets all of your company's needs."
For more information about marketing and the services Fannit provides, visit http://seattleinbound.com/.
About Fannit
Fannit.com is a full service internet marketing agency that helps companies increase their revenue by online growth through Inbound Marketing. They service Seattle area and U.S. based companies with content development, SEO, PPC, E-mail, Press Release, and Website Conversion Optimization.
Fannit
2911 Hewitt Ave
Everett WA 98201
425-359-7989