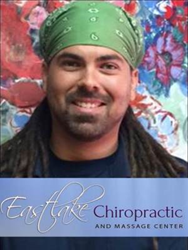 This new opportunity... allows more people to experience the benefit of combining chiropractic with focused, therapeutic massage.
Seattle, WA (PRWEB) January 31, 2015
Seattle, WA chiropractors Dr. Lincoln Kamell and Dr. Calvin Mulanax at Eastlake Chiropractic and Massage Center are pleased to announce two recent developments that will give the Center's patients greater access to massage therapy services and increased scheduling flexibility. Michael Larios, LMP has become a Regence Blue Cross Blue Shield network provider and has decided to expand his hours at the Center. Dr. Kamell sees these changes as a great way to respond to the growing demand for Mr. Larios's services. "Mike is as professional, skilled and reliable as they come. Clients leave his sessions knowing that they've received a thorough and therapeutic massage. If they need to follow up for an injury, undoubtedly they will want to schedule with him again. They recognize that they will heel faster with his care than without it."
Since joining the Center's massage therapy team in June, Mr. Larios has become a popular addition. According to Dr. Kamell, "Mike rarely—if ever—goes a day with a gap in his schedule. While this is obviously a good thing and it says a lot about the quality of care he provides, it has also meant that clients have needed to schedule in advance to secure a session. Mike has been gracious enough to expand his hours for us to accommodate his growing client base. Now that he is a Regence provider, we anticipate that he will be even busier because as a clinic, we see a lot of patients with Regence insurance coverage who need therapeutic massage care. More patients will be able to receive chiropractic and massage care under one roof, which is a huge plus for them."
For his part, Mr. Larios is excited about the recent changes and looks forward to his expanded role. "Joining the team at Eastlake Chiropractic and Massage has been an absolute privilege. The opportunity to work with dedicated massage therapists and doctors is allowing me to practice at my fullest potential, and hearing heartfelt success stories from patients every day is deeply gratifying. The number of decades-long patients at this clinic is a testament to the professionalism, talent, and compassion of the team I'm proud to be working with. This new opportunity to work with Regence patients allows more people to experience the benefit of combining chiropractic with focused, therapeutic massage, and allows me to work closely with Dr. Kamell and Dr. Mulanax as part of an integrative approach to wellness."
About Michael Larios, LMP
Mr. Larios graduated from Brian Utting School of Massage in 2004 and from Cortiva Institute in 2010. He is trained in Swedish, Myofascial Release, Neuromuscular Therapy, Injury Treatment and Assessment, Structural Bodywork, Hydrotherapy, Deep Tissue and Cardiovascular Massage.
About the Eastlake Chiropractic and Massage Center
Eastlake Chiropractic and Massage Center has been serving the Eastlake, Downtown, University and Capitol Hill communities since 1990 and has helped thousands of patients recover from back pain, neck pain, headaches, sciatica, migraines and many other ailments. The Center offers comprehensive chiropractic care, massage, and spinal decompression therapy in addition to wellness resources for the entire family.
Eastlake Chiropractic and Massage Center
2722 Eastlake Avenue East #360
Seattle, WA 98102
(206) 324-8600
http://eastlakechiro.com
Follow Eastlake Chiropractic and Massage Center on Facebook.