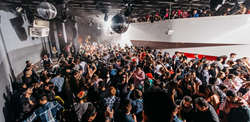 book a reservation directly with the venue. No middle men.
Seattle, WA (PRWEB) November 12, 2016
World-renowned club concierge company MyRSVP (http://www.myrsvp.com) announced today that they will be broadening their reach to the Puget Sound area, bringing their unmatched VIP services to Seattle and Bellevue.
Coming months after expanding into Vancouver, British Columbia, this marks MyRSVP's second move into the Pacific Northwest. Seattle and Bellevue join a growing list of popular cities known for their thrilling nightlife scenes, including Las Vegas, London, New York City, Miami and more.
Best known for their convenience and expertise, MyRSVP specializes in the best nightclubs and pool parties. This move to the Pacific Northwest will bring a new way to book bottle service and VIP tables, all while avoiding the hassle and long lines at Seattle's premier venues. Search through the directory of nightclubs, find one that fits, and book a reservation directly with the venue. No middle men.
With a reputation for great music and wild parties, the Puget Sound has become a destination hotspot for innovative nightclubs like Aston Manor and Volume Seattle. From the massive sound at Tia Lou to the ambitious decadence of Trinity to the leisurely pace of Havana Social Club, Seattle's eclectic nightlife scene offers something for everybody.
In addition to the nightclub portion, MyRSVP.com breaks down Seattle's top dining establishments by cuisine. From steaks at the famous Metropolitan Grill, to fresh seafood and sushi at the trendy Umi Sake House, MyRSVP provides reviews and recommendations for their hand selected 'Top 5' in each category.
"You need to get at MyRVSP If you want to not have to worry about the club and pub scene… All you have to worry about is sleeping in between the nights they set up for you" states former Seattle Sounders player Chad Barrett.
There's a better way to book VIP services in the Pacific Northwest, and MyRSVP is leading the revolution.