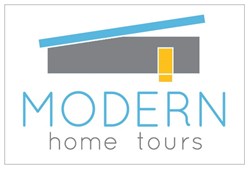 The Pacific Northwest has some of the finest examples of residential modern architecture... the entire region has become a hotspot for architects to experiment with some truly inspiring modern ideas and concepts.
Seattle, Washington (PRWEB) February 21, 2014
The third annual Seattle and Portland Modern Home Tours are kicking off a spring run of home tours that begin with a stretch up and down the Pacific Coast. During the 2014 Seattle Modern Home Tour and the 2014 Portland Modern Home Tour, attendees will have the opportunity to explore five to eight modern homes in the area that exemplify modern architecture and living. Get the inside scoop from homeowners on what it's like to live in a modern home; and talk to the architects to find out where they got their inspiration. This is every Seattle and Portland resident's chance to check out 'that cool house you always drive by…'.
"The Pacific Northwest has some of the finest examples of residential modern architecture," explains Modern Home Tours president and co-founder James Leasure. "Between the eco-friendly consciousness, plethora of natural resources, and amazing landscapes, the entire region has become a hotspot for architects to experiment with some truly inspiring modern ideas and concepts. We always look forward to our Seattle and Portland visits each year, and 2014 is no exception."
Leasure adds the back-to-back weekends this year make for a great way to explore the architecture of both cities: "We thought it would be a lot of fun to offer modern home lovers the chance to explore architecture in one city on one weekend, and then make a short trip to a second, neighboring city the following weekend for a friendly and entertaining comparison of local designs and traits. It is a short road trip between Seattle and Portland, and it's exciting to offer this opportunity to residents of two cities in two states."
Previous Seattle Modern Home Tours have included homes designed by Coates Design Architects, Goodspeed Architecture, Schemata Workshop Inc., Eric Cobb, Studio Ectypos, David Coleman, and Stannard Conway. Additionally, for the third year in a row, the Seattle Architecture Foundation has been named the tour's local non-profit beneficiary. They will help staff the event, in return for a small donation and the opportunity to use the tour as a fundraising vehicle.
In Portland, local architecture expert Brian Libby, founder of portlandarchitecture.com, has signed on for the second year in a row as Tour Consultant and Curator for the Portland Modern Home Tour. Previous tours in Portland have featured local architects such as Emily Réfi, Ellen Fortin + Michael Tingley, William Kaven, Rick Potestio, Design for Occupancy, Departure Design, and Holst Architecture, and included notable local masterpieces such as Treehouse, Harpoon House, Interchange House, The Park Box, and the "Eyebrow House" featured in Portlandia.
Homes for each tour are currently being accepted and confirmed. Up to date details and a list of confirmed homes for each tour can be found at http://www.modernhometours.com. Participating homes will open their doors for viewing from 11AM – 5PM on Saturday, March 22nd, in and around Seattle, Washington, and on Saturday, March 29th, in the Portland, Oregon area. All are invited to attend. Kids under 12 are Free (when accompanying their parents).
Tickets for each tour are $30 in advance online, but Modern Home Tours is offering a special discount to tourgoers that want to explore both cities. Leasure explains that while the tours are their own separate entities, there's opportunity to attend both tours for a low price: "We are offering a very special deal for tourgoers that want to experience both weekends. When you purchase a ticket for the Seattle or Portland Modern Home Tour online, you will be given the option to buy a ticket for the other tour for just $10. In other words, you can attend both tours for just $40, the normal day-of price for admission to just one tour."
For more details and a current list of approved homes on both tours, visit http://modernhometours.com.
About Modern Home Tours, LLC: Based in Austin, Texas, Modern Home Tours, LLC was founded by partners Matt Swinney & James Leasure in 2010 to introduce modern architecture and living to people across the nation. Through fun and informative tours in dozens of cities across the USA and Canada, the group invites people into some of the most exciting examples of modern architecture and design in the nation. With carefully selected architects, neighborhoods and architecture, the Modern Home Tours are unlike anything you've ever seen. Not only will you learn about the cutting edge of home design while on our tours, but you might even get an idea or two for your next home project!