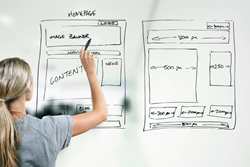 "Many people determine the reliability and capability of a business within seconds of viewing a page of their website."
Seattle, WA (PRWEB) March 30, 2015
"The design, structure, and layout of your website plays a major role in attracting leads and creating conversions," says Keith Eneix, CEO of Fannit.com in a recently released article. "Many people determine the reliability and capability of a business within seconds of viewing a page of their website."
Among the five powerful trends that Eneix highlights in his article are responsiveness, minimalism, and increasing use of visual elements.
For those business owners and marketing managers who strive to establish their brand as both competent and professionals in their industry marketplace, integrating these design elements is must.
Websites make first impressions. In today's world, consumers progress through 60% of the sales process before they ever talk to a representative from the business in question. In light of this, a website plays a major role in building trust and helping those viewers on their way to a purchase decision.
The first trend that Eneix mentions is the fact that websites are increasingly becoming mobile friendly. Eneix also points out that, "As of April 21st 2015 Google is going to be penalizing websites that are not mobile friendly," and he provides a link to a check tool from Google that businesses can use to see if their website is compliant with Google's mobile-friendly standards.
Another website trend that Eneix discusses in his article is the concept of 'minimalism.' These days, busy websites packed with a lot of visual elements is quite deterring for a user. Instead, users have come to expect clean, easy layouts and simple colors as well as flat designs and basic geographic shapes.
According to Eneix, "A flat style that uses attractive colors and makes prominent information readily available has shown to attract more viewers and potential leads."
For more information about Fannit.com or to contact them for more information about web design recommendations, simply visit their website: http://seattle-seo.net/company/
About Fannit
Fannit.com is a full service internet marketing agency that helps companies increase their online presence through engaging and well placed content. They service Seattle area and U.S. based companies for content development, SEO, PPC, E-mail, Press Release, and Website Funnel Optimization.
Fannit
2911 Hewitt Ave
Everett WA 98201
425-359-7989